Moncrief believes Sutton deserves Hall of Fame nod
Published: Wednesday, May 24, 2017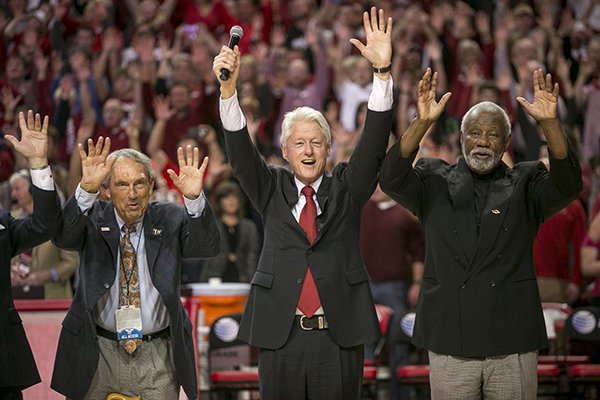 Eddie Sutton, left, former President Bill Clinton, center, and Nolan Richardson, right, call the "Hogs" during halftime of an NCAA college basketball game between Arkansas and LSU on Saturday, Feb. 15, 2014, in Fayetteville, Ark. (AP Photo/Gareth Patterson)
ROGERS — While raving about the job that Arkansas head basketball coach Mike Anderson is doing currently, former Arkansas All-American Sidney Moncrief also honored his old coach Eddie Sutton on Monday.
Sutton, 260-75 in 11 years at Arkansas and one of only eight coaches with more than 800 college wins, helped revive Razorback basketball with an unprecedented run of success during his tenure.
He did so by signing "The Triplets" - Little Rock Hall's Moncrief, Conway's Marvin Delph and Fort Smith Northside's Ron Brewer, who led Arkansas to the 1978 Final Four.
"I think it was a level of expectations," Moncrief said at Anderson's charity golf tournament Monday. "… I'm going to say it a different way. He set standards for how you play the game of basketball. And it's not just about being deliberate (style-wise). He wasn't as deliberate as people think.
"But the way you play the game as it relates to trying to be perfect and trying to do everything the right way on and off the basketball court. And most of his players graduated. They were very good team players. He had a very high rate of players to play in the NBA. Not just one year, but play (multiple) years in the NBA."
Sutton, 806-326 in 36 seasons overall, was the first college coach to take four different schools to the NCAA Tournament, leading both the Razorbacks, Creighton, Kentucky and Oklahoma State to the Big Dance. He had nine NCAA Tournament teams and won five Southwest Conferenence championships in 11 years at Arkansas.
He was honored by Arkansas on Feb. 19, 2016 with a banner hung in the Bud Walton Arena rafters with a large contingent of former players, assistant coaches and support staff on hand.
The 81-year-old Sutton has seen his health failing in recent years with Moncrief and others former players such as Charles Balentine, Joe Kleine, Jimmy Dykes and Houston Nutt traveling to see or talking to their beloved coach recently.
"I talked to coach about four weeks ago and he seems to be communicating better than he had in the past," Moncrief said. "But he's had a tough stretch. He's been such a positive influence on so many people. I always think of him as 30 or 40 years ago, even though I know he's not doing as well. But my feeling on coach Sutton is always that impact he had and how he meant so much to so many players, including myself.
"But his influence goes beyond the court, because he taught us how to be better men. To me that was much more important than basketball."
While Sutton was elected to the National College Basketball Hall of Fame in 2011, he has not yet been elected to the Naismith Hall of Fame, much to his players and fans' dismay. Sutton, a six-time nominee, is the only one of the eight college coaches with more than 800 wins who hasn't been inducted into the prestigious club.
"I'm biased," Moncrief said. "I'm going to say he's the greatest coach. I'm going to say that for good reason, because he went to so many different programs and won 20-plus ballgames. And he did it the right way. Relatively clean way. Not a lot of cheating. And he took care of things off the court for the players as it relates to academics. So I would put him way, way up there. Top 10, in my opinion.
"It is a shame he's not there. But he will get there. There's no doubt. I just can't imagine him not making it to the Hall of Fame one day."
Moncrief, who currently does community work for the Milwaukee Bucks, is not in the Hall of Fame either despite being a five-time All-NBA selection and a two-time NBA Defensive Player of the Year. He was one of the 2017 nominees, but was not named a finalist.
"It's a shame I'm not there, but for me — I'm not just saying this — there are more important things in life," Moncrief said. "And my life is not defined by the Hall of Fame. It would be nice to get there, but I do much greater things and my focus is just trying to impact people right now more than what I did on the basketball court."
Moncrief also raved about Arkansas' current coach, lauding the job Anderson has done over the last three years by compiling the program's two best seasons in 20 years.
"Mike Anderson did the best job in college basketball this year hands down," Moncrief said. "I watched Arkansas and I watched some others teams and I watched the talent level grow somewhat, but the way he got that team playing well together, they competed hard, the rotations were crisp and I told Mike that 'not that you haven't had good coaching years, but that was the best coaching job I have seen you ever have and he should have been coach of the year in my opinion."
Discussion
Have a comment on this story? Join the discussion or start a new one on the Forums.