Postgame thoughts: Arkansas 95, Samford 56
Published: Friday, November 10, 2017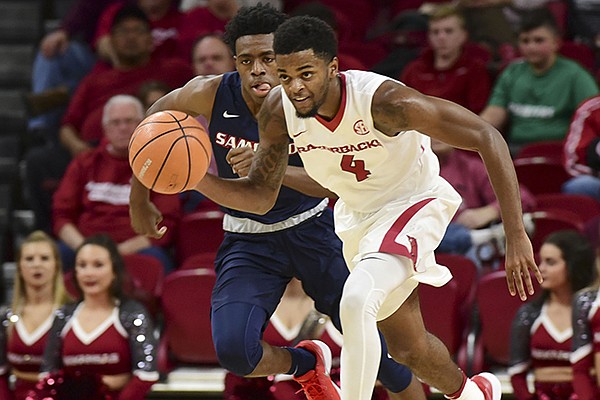 (
Spencer Tirey
)
Arkansas guard Daryl Macon dribbles up the floor during a game against Samford on Friday, Nov. 10, 2017, in Fayetteville.
FAYETTEVILLE — This was a different Arkansas team than the one that played in the two exhibition games.
The Razorbacks came out with much more energy this Friday than they did the previous two ones against exhibition foes Central Oklahoma and Missouri Western.
Samford is a quality club, one that had all five starters back from a 20-16 team that played in the postseason. It also has 12 of its 13 players returning and a Alabama transfer Justin Coleman added to the mix.
But Arkansas was sharp from the beginning and turned a 6-5 deficit into a 21-6 lead with a 16-0 run and never looked back, leading by 71-27 at one point.
Daryl Macon had 11 of his 16 points early and Adrio Bailey not only had the season's first two points, but shined early and finished with a career-high 15 as the Razorbacks shot 57 percent from the field, were 9-of-22 from beyond the 3-point arc and 14-of-22 from the free throw line.
But it was defense that Arkansas head coach Mike Anderson wanted to talk about the most as a good-shooting Samford squad was limited to 32.2 percent from the field and 27.6 percent from 3-point range.
"That first game, you never know how guys are going to come out, but defensively we could not have come out any better," Anderson said. "We were active, we were in passing lanes, we were disruptive and not letting Samford do what they wanted to do.
"I thought our defense was the key in the game and when you play a team like Samford, guys that can really shoot the basketball…we did a good job of chasing them off the line."
• • •
Daryl Macon, Jaylen Barford and Anton Beard are all going to score, but look at those assist totals.
The trio of senior guards combined for 46 points with Barford and Macon scoring 16, and Beard 14, but they also combined to dish out 20 of their team's 28 assists that came on 36 made shots.
"That's something that I had to add to my game in order for it to be complete," Macon said. "One thing I love doing is getting my teammates' involved. especially when we have a lot of freshmen out there that I can say are a little nervous and need help in gelling with the rest of the team."
Anderson loved the passing effort of those senior guards.
"When you get 28 assists on 36 field goals, that means you are really sharing the basketball," Anderson said. "I think an interesting point is that 20 of those assists were by those senior guards so they played for each other."
• • •
Fatigue became a factor with the visitors
Arkansas played 11 guys, including walk ons Jonathan Holmes - who scored on a free throw - and JT Plummer.
The other nine players all played double-digit minutes with Barford's 29 minutes being the most of any Razorback.
Christen Cunningham led Samford with 28 minutes played, but the Bulldogs looked tired in the second half.
"I think our guys got a lot of good rest because our bench played so well," Anderson said. "…You could see at the end that fatigue really took over with Samford and we were able to close strong."
• • •
Samford coach Scott Padgett is likely to be the tallest coach Arkansas faces this season and might be the wittiest losing one to come into the press room.
The 6-foot-9 Padgett played for Kentucky, was a starting forward on the Wildcats' 1998 National Championship team and was named a Wooden first-team All-American even though he was just on the SEC's All-Conference second team.
He also had stints in the NBA with the Utah Jazz, Houston Rockets, New Jersey Nets and Memphis Grizzlies.
Padgett was not happy about his team's performance, but managed to get through the press conference with some humor.
"I would just call that a good old-fashioned punking," Padgett said. "My biggest worry coming into this game was their quickness and athleticism and it prove to be the difference. I don't know that they had to run a play tonight. When guys got up in us, we panicked. When things didn't go good to start, our attitude was terrible. We did't have fight in us.
"I don't know how much Arkansas got out of this. I know we didn't get anything out of it except some humbling that we needed. They get a win, but this was almost like a exhibition game for them, but not as tough because I saw their exhibitions. Just an old-fashioned punking."
Padgett indicated his guards seemed intimidated by Arkansas center Trey Thompson, who found himself guarding them early and forcing them into turnovers on the pick and roll.
"Later in the game when we are down 40 we decide we wanted to get by someone," Padgett said. "But when Thompson jumped out early, we acted like he was the Incredible Hulk and we were scared of him."
• • •
Sunday's game with Bucknell is likely to be tougher than the opener.
"It was one game and one night so we aren't going to get carried away," Anderson said. "I told my guys enjoy it until midnight and then we will get ready for the next team on our schedule, which is Bucknell."
Monmouth beat visiting Bucknell 79-78 on Friday. Zach Thomas scored a game-high 31 points for the Bison.
Bucknell is picked to win the Patriot League this season, was 26-9 last season and returns all five starters from a team that lost to West Virginia 86-80 in the first round of the NCAA Tournament.
"They are very good," Anderson said. "I think it is an NCAA Tournament team that took West Virginia right to the brink at the end.
"They have like three of four All-Conference players on that team. It's amazing the coaches go in and out, but the winning continues."
Discussion
Have a comment on this story? Join the discussion or start a new one on the Forums.