UA roster has Louisiana flavor
Published: Saturday, November 11, 2017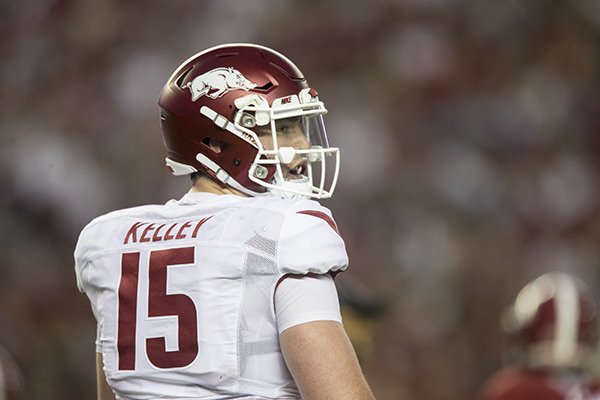 (
Ben Goff
)
Arkansas quarterback Cole Kelley looks toward the sideline during a game against Alabama on Saturday, Oct. 14, 2017, in Tuscaloosa, Ala.
The Arkansas football rosters lists 12 players who played high school football in Louisiana.
Ten of those expect to see playing time at LSU today in the Battle for the Golden Boot in Baton Rouge.
It's always a big game for the Louisianans on the Razorbacks' roster. The winner gets to house the 4-foot tall, 175-pound, 24-karat Golden Boot trophy for a year, and have bragging rights when they go back home.
"It kind of looks like a bad neck chain from the '80s," Arkansas coach Bret Bielema said of the trophy before last season's game. "It's a little gaudy. It's a little big. But it's gold-plated.
"People freak out around that Boot. The power of that thing, our players really respond to it."
LSU has a 13-8 lead in the series in the Golden Boot era, which began in 1996. The Arkansas-LSU series dates back to 1901.
The Louisiana Hogs have been recruited to Arkansas by receivers coach and New Orleans native Michael Smith, who has one 2018 commit from the state in Reserve (La.) Riverdale Academy tailback Jeremy Gibson (5-foot-11, 195 pounds).
"It's definitely a help to have these guys playing the way they're playing and contributing the way they are," Smith said. "That's a goal of mine with all the guys that I bring up here and that we're fortunate to get up here. They have an opportunity to come in and contribute and be big-time players for us."
Quarterback Cole Kelley, who has started the last four games for the Razorbacks (4-5, 1-4), is from Lafayette and could be under center against the Tigers (6-3, 3-2) today.
"They'll be excited," Bielema said. "I think you've got to be a little bit cautious with it. Any time you're dealing with guys that you know have a personal … For instance, Cole. Cole's a young quarterback in his career that's very excited. He's always a guy that plays with high energy and high emotion and how he goes to his home crowd and he's going to be a starting quarterback. That's a lot of emotions for him to deal with. You've just got to try to temper it all week and get him to play within himself."
Arkansas defensive coordinator Paul Rhoads heads up a defense that features several Louisiana-born Hogs.
"I think it's a really big deal," Rhoads said. "We're certainly glad to have all of those guys on our roster. They're fun to coach. They love to play the game of football. It shows on a daily and weekly basis.
"This game is extremely important to them and playing for the Boot is something that they look forward to. The preparation needs to be good to give them an opportunity to get that back home. I don't have any doubt that it will be."
Bielema noted that Smith, a coach LSU has tried to hire away twice, has allowed Arkansas to flourish in Louisiana recruiting.
"I knew coming into Arkansas, obviously kids from Arkansas goes with it," Bielema said. "But the proximity, and Michael Smith coming from Louisiana, has allowed us to recruit in there. A lot of recruiting battles with LSU on guys. Not just Louisiana players, but maybe players we're on in Texas and Florida.
"So there's a lot that, that goes with it. Then because we've developed a roster with so many Louisiana players, it's become a bigger deal."
When Arkansas beat LSU 17-0 in 2014 to end a 17-game SEC losing streak, it set off a wild celebration by the Razorbacks, who also won the following season before losing 38-10 last season.
"I think all of our guys, as evidenced by my second year here when we won the Boot, how many guys that aren't from Louisiana were so engaged with the preparation to get the Boot, and then obviously after the game was won, the celebration around it," Bielema said.
"The same thing the next year. And then last year, to be quite honest, the disappointment to not retain it I think hurt our guys a lot. That's something we're playing up this week for sure."
Dudley Dawson is the recruiting editor for Hawgs Illustrated magazine.
Discussion
Have a comment on this story? Join the discussion or start a new one on the Forums.