Fitzgerald presents another challenge for Hogs' defense
Published: Monday, November 13, 2017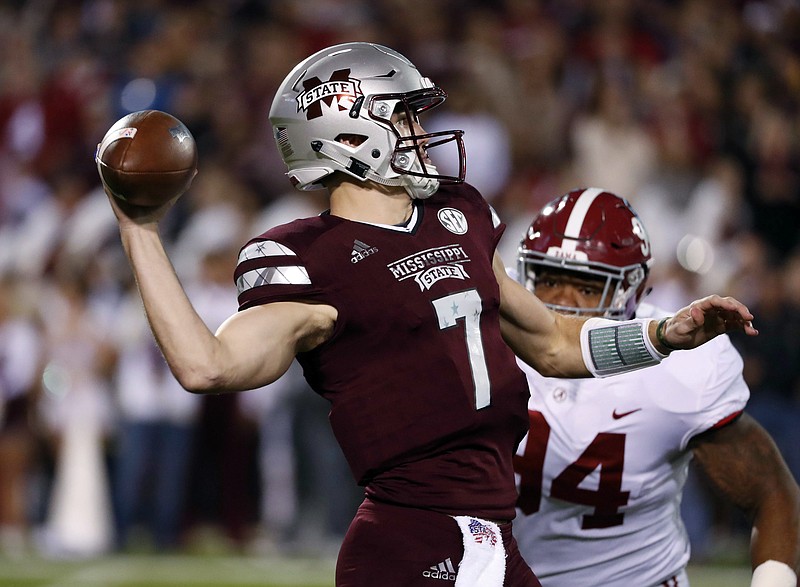 Mississippi State quarterback Nick Fitzgerald (7) throws as Alabama defensive lineman Da'Ron Payne (94) tries to tackle him during the first half of an NCAA college football game in Starkville, Miss., Saturday, Nov. 11, 2017. (AP Photo/Rogelio V. Solis)
FAYETTEVILLE — An Arkansas defense that has struggled this season now must face arguably the most talented quarterback on its schedule.
Mississippi State quarterback Nick Fitzgerald has passed for 1,617 yards, rushed for 856 yards and accounted for 26 touchdowns this season.
He will lead the No. 17 Bulldogs (7-3, 3-3 SEC) into a Saturday 11 a.m. game at Arkansas (4-6, 1-5) after nearly pulling off an upset of No. 1 Alabama over the weekend.
"He is a great football player," Arkansas defensive coordinator Paul Rhoads said. "He has 800 or 900 yards rushing and 1,600-plus passing and he is fast. I think people don't give him enough credit for that. They know he is big, they know he is physical, they know he churns it out, but he is fast in the process, too.
"Anytime you have to defend the quarterback run game, you are talking about an extra gap so you have got to change some things around to make sure you account for it on every single snap they have offensively. He provides us a great challenge and the running backs are no slouches themselves.
"We think this O-line is a very, very good offensive line and if you allow them to, you are going to stuck on them. If you allow their big bodies to get hands on you, you are going to have a tough time getting off and making plays."
Fitzgerald (6-5, 230 pounds) was 13-of-24 passing for 158 yards and had 66 yards rushing in the 31-24 loss to Alabama.
"He is throwing some balls - and I just said this to the staff here in a the last hour - he throws some outstanding balls, tremendous balls and he has full control of where he wants to put them," Rhoads said. "They put the big tight end in the flex position and he throws a back shoulder fade and the cornerback is up field enough and he throws the ball exactly where he wants to.
"I think he throws it with more consistent accuracy than he did a year ago and I think he has completely developed as a collegiate passer."
Mississippi State and Alabama were tied until Crimson Tide quarterback Jalen Hurts threw a 26-yard touchdown pass to DeVonta Smith with 31 seconds remaining in the fourth quarter.
"I think the fact that it went right down to the wire tells you everything you need to know about how they played in that game overall as a football team and certainly how they played as an offense," Rhoads said. "There were a number of drives where Alabama's defense couldn't get off the field. That's not common for that to take place.
"They had an excellent balance of run and pass, an excellent balance of running the quarterback and not running the quarterback. They had some pass stuff that kept them on edge. They did it both formationally and through play action. They had their football team ready to play both in mindset and in the plan put in front of them."
Rhoads and Mississippi State head coach Dan Mullen know each other well, having become head coaches at the same time in 2009.
"Dan had talked to me about going (to Mississippi State) with him when I was out of work at Auburn before I got the Iowa State job," Rhoads said. "Because of that I followed him his entire length of time there and he steadily built it to where he was No. 1 in the country.
"I have full notice of what he has accomplished there. He has just done a great job of building it and now he is in a position to sustain it. A little bit of hiccup maybe last year although making it to the postseason. A lot of credit needs to be given for what they have accomplished, but they have been doing it."
Arkansas hopes to have more defenders able to play this week as safety DeAndre Coley and cornerback Britto Tutt should be able to play after being out with injuries.
"This was the first game that there really were no substitutions that took place," Rhoads said. "Dre Coley, we missed him and we missed his physical style of play and his number of snaps. There is no doubt in my mind that he will play this coming Saturday after watching him progress over the last few weeks and up to game day where he got to."
Tutt was getting healed up from one injury when he was injured again last week.
"He sustained a shoulder injury in practice last week and was coming off recovery of a knee and went into the week and was in good shape and then got a stinger on Tuesday," Rhoads said. "He spent the rest of the week not being able to utilize that arm and just felt apprehensive."
Rhoads also hopes to play true freshman cornerback Chevin Calloway more this weekend.
"I would like to see Chevin Calloway on the field a little bit more this game," Rhoads said. "We have the ability with the health of some guys to overcome those reps. A lot of guys across the country are playing guys the entire game and surviving it. If that is what is asked of our guys, that is what we need to step up and accomplish."
Discussion
Have a comment on this story? Join the discussion or start a new one on the Forums.