Fresno State coach high on Hogs' freshman
Published: Friday, November 17, 2017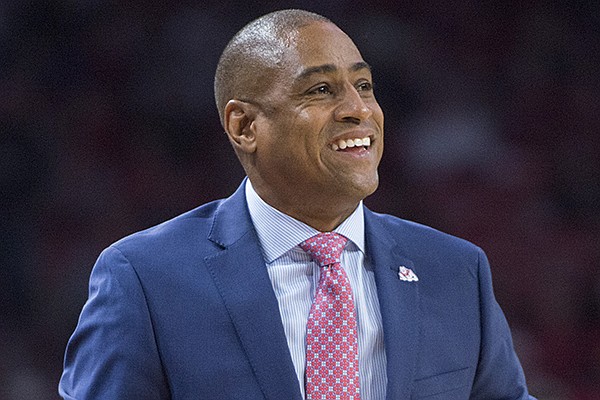 (
Ben Goff
)
Fresno State coach Rodney Terry smiles during a game against Arkansas on Friday, Nov. 17, 2017, in Fayetteville.
FAYETTEVILLE — Arkansas freshman center Daniel Gafford had a coming out party on Friday much to the chagrin of Fresno State coach Rodney Terry.
Terry was singing the praises of the 6-11, 235-pound Gafford, who made 9-of-11 field goals and 6-of-9 free throws while recording 25 points, 8 rebounds and 3 blocks.
"He needs to go to the NBA right now," Terry joked. "No, you know I really liked him on tape while watching him play his previous games. He's just a young, a really young, good talent that plays with a great motor and is only going to get better and better. I think the sky is the limit for how good he is going to be.
"I know after (watching) the first game (of Gafford's career), I went to one of our assistants and said, 'That is a great in-state get right there.' That is going to be a guy right there that is going to have a chance to do some great things here. I was just hoping it wasn't tonight, but we made him look like an NBA guy tonight right off the bat."
Terry compared Gafford to where former Texas player and now NBA star LaMarcus Aldridge was at the same time in his career. Terry was an assistant coach for the Longhorns prior to taking the Fresno State job.
"I have been around some good young players myself, blessed to around some really good young guys that were agile and can move the way he can move right now," Terry said. "LaMarcus Aldridge was a guy that we had at Texas that moved that way. He doesn't shoot it the way LaMarcus shoots it, but LaMarcus didn't didn't shoot it that way as a freshman either.
"Going into his sophomore year, LaMarcus developed more of a shooting range and things of that nature, but athleticism, affecting things on both ends of the floor and being a guy that can get up and down, he is going to be scary when he puts it all together and gets a full year in the weight room and things of that nature. He is a good young talent."
Gafford played a career-high 30 minutes Friday after playing just 33 minutes combined in his first two games because of foul trouble. He combined to score 25 points and record 7 rebounds total in those two games.
Gafford had just three fouls against Fresno State.
"He had been foul-prone and our game plan was to come in and try to be physical with him," Terry said. "Anytime you have a young player of that talent, I think it is important you have some physicality with him and I think early on we didn't have that physicality with him and we left him get off to a good start. And just like with any young player, he is going to continue to be confident and he had a great night."
• • •
Gafford said he made a point of going up straight and not fouling Friday.
"With the first two games, it just clicked in my in my mind that I needed to get better at defense," Gafford said. "That was going to be like a weakness of the team if I didn't get better at defense."
Gafford had 11 points and 3 rebounds before halftime, and 14 points and 5 rebounds after intermission.
"It clicked in my head that I needed to step up," Gafford said. "So I brought it all tonight."
• • •
Arkansas coach Mike Anderson was thrilled that Gafford was able to play 30 minutes, especially because senior center Trey Thompson was plagued by fouls.
"Every game he is going to learn and his team needed him to be out there," Anderson said. "I thought he played a lot smarter. He was more instinctive tonight.
"He used his length tonight. He was out there for awhile and we need him out on the floor. He knew we needed him so he stayed out of foul trouble."
Anderson knows the potential that Gafford has and is excited about about how he is getting better each game.
"Our guys really did a good of finding him and he did a good job of finishing off plays and continues to get to the free throw line," Anderson said.
"You look at Daniel right now and he is nowhere near what he is going to be. He just came out of high school. That was his third game on the collegiate level. Once you get into it and start understand the repetition and then going against the competition and your confidence grows."
• • •
Arkansas showed it could win ugly against Fresno State after a pair of blowout wins to start the season.
"The key is to win - by one point, two points, five points," Anderson said. "I thought we just played not to lose instead of trying to win."
• • •
Next up is a trip to Portland for the Phil Knight 80 Invitational where Oklahoma awaits on Thanksgiving. The Razorbacks potentially could play North Carolina next Friday in what would be a rematch of last year's second-round NCAA Tournament game the Tar Heels won en route to a national championship.
The 16-team tournament features all Nike teams, including Michigan State, UConn, Oregon and DePaul on the Razorbacks' side of the bracket.
"I think it is a great, great opportunity for Arkansas and being here for the many, many years I was here (as an assistant), that is what we used to do was play in those prestigious tournaments," Anderson said. "Obviously it is a tremendous honor. It is a great tournament with some great teams.
"We feel like we are one of the better teams in the country."
Discussion
Have a comment on this story? Join the discussion or start a new one on the Forums.