UA change leaves recruits in lurch
Published: Thursday, November 30, 2017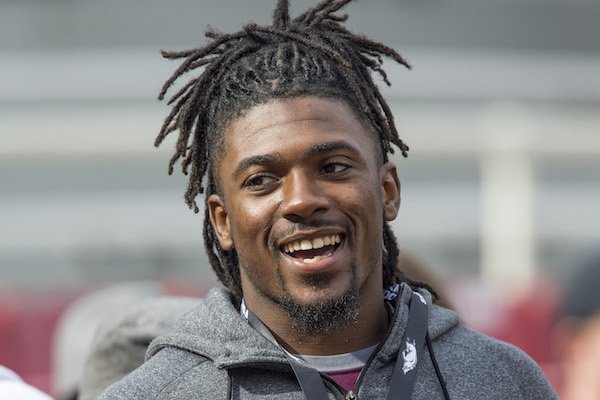 (
Ben Goff
)
Recruit Gerry Bohanon before the Arkansas vs Coastal Carolina game Saturday, Nov. 4, 2017, at Reynolds Razorback Stadium in Fayetteville.
Now that former Arkansas head coach Bret Bielema has not been retained after five seasons, the search for a new man to lead the program has begun in earnest.
One would think that coach would be in place next week as there are two on-campus recruiting weekends on Dec. 8-10 and Dec. 15-17 before a dead period begins on Dec. 18.
Those dates precede the first-ever high school early football signing period of Dec. 20-22 and the national junior college mid-term signing period, which also begins on Dec. 20 and runs through Jan. 15.
For as much as some Razorbacks fans are excited and others nervous about a new coaching hire, one can only imagine what it is like for commits that believed they had their future set.
That includes recruits committed to other schools as well such as Ashdown cornerback LaDarrius Bishop (6-2, 180), who pledged to a Mississippi State program that head coach Dan Mullen left for Florida.
The Arkansas situation will also be watched closely by uncommitted recruits such as Earle quarterback Gerry Bohanon, who officially visited the Razorbacks in early November and who leads his team into a Class 2A semifinal on Friday night against Foreman.
Most of the Razorbacks' 12 commitments have reaffirmed their commitments to the Razorbacks or at least the intention of waiting until a new coach is hired to look elsewhere.
"It's the unfortunate part about recruiting, but I guess that's how it goes," Arkansas offensive line pledge Noah Banks of Iowa Western told Richard Davenport of the Arkansas Democrat-Gazette shortly after the firing was announced. "Happened to me in high school, but now I'm prepared for it and we will see how it goes."
At least two Arkansas commitments have already begun checking out their options.
Both 2018 cornerback commit Tanner McCalister of Rockwall, Texas, Rockwall-Heath and 2019 Monument, Colo., Palmer Ridge quarterback commit Ty Evans have acknowledged they are are looking around. McAlister remains a "soft" commit.
McAlister, who had 1,282 yards rushing, 15 touchdowns, 35 tackles and two interceptions this season, tweeted about his situation on Monday night:
"Want to give a huge thanks to @BretBielema for giving me the opportunity to play at such an amazing place! The University itself sold me. With that being said, I will be taking time to speak with my family about my future. Praying for God's direction on where I should go!"
Evans will be trying to lead his team to a state championship on Friday night when No. 2 Palmer Ridge (13-0) meets No. 5 Erie (11-2) at the Air Force Academy in a 1 p.m. Saturday game.
He has thrown for 3,318 yards and 39 touchdowns this season with just five interceptions, while Erie boasts the state's leading rusher in junior Noah Roper, who has 2,537 yards and 34 touchdowns.
Evans tweeted his de-commitment on Monday with special thanks to Bielema, Arkansas offensive coordinator Dan Enos and recruiting coordinator E.K. Franks:
"First of all, I would like to say thank you to the Arkansas staff for recruiting me and to the whole Razorback community for supporting me. I am sorry to say due to the current coaching situation I will be reopening my recruiting and decommitting. As the University of Arkansas is a special place I look forward to speaking with the new coaching staff.
"On a personal note, I would like to thank Coach Bielema, Coach Enos and Coach Franks for the way they treated me, my sister during her injury, and the rest of my family. I can tell they genuinely care about me as a person and those friendships will last a lifetime."
Discussion
Have a comment on this story? Join the discussion or start a new one on the Forums.