Arkansas offers junior college linebacker Jordan Allen
Published: Tuesday, October 10, 2017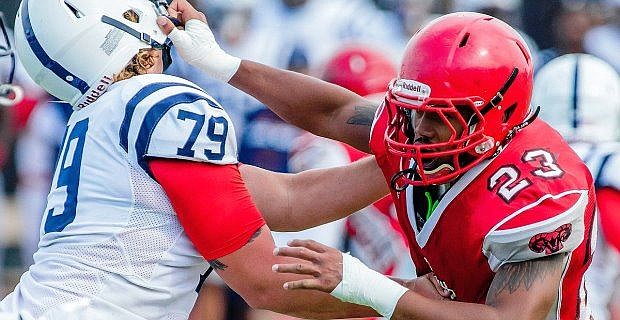 FAYETTEVILLE — Arkansas has made a move on a junior college defender whose stock has risen over the past few weeks.
City College of San Francisco defensive end/outside linebacker Jordan Allen (6-5, 240 pounds) is a star in the making, said Anthony Feliciano, the Rams defensive coordinator and linebackers coach.
Allen was offered by the Razorbacks on Monday and also has offers from TCU - where he officially visited last weekend - along with Ole Miss, Iowa State, San Diego State, San Jose State and others.
"I have been here 17 or 18 years and he is as talented a guy has I have seen here," Feliciano said. "His change of direction speed is amazing. He is a hell of an athlete.
"He plays defensive end for us so he is kind of learning the position, but he has gotten better and better every week. He is a great pass rusher and has become a lot better against the run game. He becomes more aware as he learns how to to play the position."
Allen signed with the University of California-Davis in Fairfield, Calif., but made the move to CCSF after a year.
"He is a bounceback from UC-Davis and came to us as just kind of a raw athlete who just had played wide receiver in high school," Feliciano said. "We looked at him and thought his height and the fact that he can go side-to-side so quickly would translate into a great defensive player, which he is on his way to becoming."
Arkansas is now running a 3-4 defense and Feliciano sees Allen as a versatile defense that can play several positions. Allen has a 4.5-second time in the 40-yard dash.
"I think he can play end on the next level if that is what the coach wanted," Feliciano said. "He has the frame to put on a lot of weight, especially in his upper body.
"In the 3-4, I think he would be a walk guy. We run a 4-2-5 basically and he is a down guy, but he is up in a two-point a lot unless there is a tight end on his side and then we put him down.
"He could adapt to both and that wouldn't be a problem at all."
Allen has 13 tackles with 2 sacks in five games this season for CCSF (3-2), which has won three straight games.
"He's raw," Feliciano said. "There is no doubt about that. He will look fantastic on one play and he'll run himself out of another play. Playing the end, he just needs more reps. The more he gets, the better he is getting.
"But he is a talent and that's why everyone is attracted to him."
While Allen was able to visit TCU when CCSF was off last week, he won't be able to take any more visits until after the season.
"That was our bye week," Feliciano said. "Now we are in week six. The next time he will probably be able to get out of here is after week 10."
Arkansas is looking toward the JUCO ranks for help in the pass rush. The Razorbacks last week offered Bryant Pirtle (6-3, 240) of Tucson, Ariz., Pima Community College, who has offers from Arizona, Arizona State Louisville, Utah, Texas A&M and others.
Discussion
Have a comment on this story? Join the discussion or start a new one on the Forums.