Kelley likely to play again against Auburn
By: Kurt Voigt, The Associated Press
Published: Monday, October 16, 2017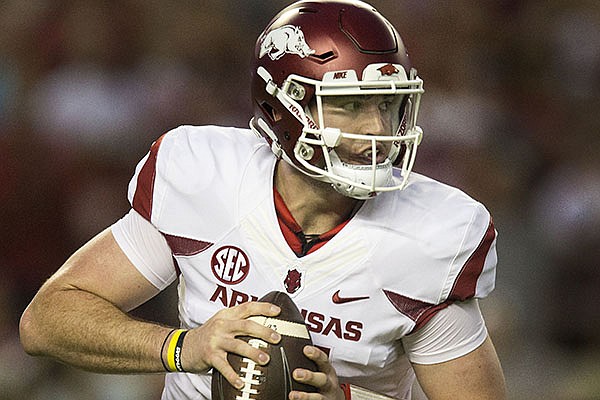 (
Ben Goff
)
Arkansas quarterback Cole Kelley looks to pass during a game against Alabama on Saturday, Oct. 14, 2017, in Tuscaloosa, Ala.
FAYETTEVILLE — Cole Kelley made some mistakes in his first career start for Arkansas last week, but the freshman quarterback also looked the part of a future full-time starter at times in a 41-9 loss to No. 1 Alabama .
The struggling Razorbacks (2-4, 0-3 Southeastern Conference) appear likely to get another look at Kelley this week against No. 21 Auburn.
Arkansas coach Bret Bielema said Monday that starter Austin Allen isn't likely to play on Saturday against the Tigers (5-2, 3-1), despite continued improvement since injuring his throwing shoulder in the second half against South Carolina two weeks ago.
"If it came to a point later in the week where he could practice Thursday, I think there's merit to (Allen returning this week)," Bielema said. "Where he's at right now, I'd say we're still a couple of weeks away, but Austin is a guy who surprises a lot of people and if he can go and do things, it's a positive for us."
Allen made the trip to Alabama last week and served as a mentor on the sidelines for Kelley, who completed 23 of 42 passes for 200 yards in his first start. The 6-foot-7, 268-pound freshman also threw a touchdown in the game against a Crimson Tide defense that's second in the country in points allowed per game (10.1).
Kelley earned praise from both Bielema and offensive coordinator Dan Enos afterward, though the Louisiana native was frustrated by an interception he threw — and the loss.
"I can't be Superman and also can't make mistakes and stuff like that," Kelley said. "I don't care who we're playing, I do not like to lose so I'm not very happy."
Arkansas has now lost six of its last eight games dating to last season, six straight to teams from Power Five conferences. The Razorbacks are also 27-30 overall under Bielema in his fifth season, 10-25 in the SEC and in danger of ending a streak of three straight bowl game appearances with six games remaining.
Despite the disappointing first half of the season, Bielema hasn't changed his expectations of winning each remaining game — even while facing an Auburn team this week that defeated the Razorbacks 56-3 a year ago.
And even with Kelley's injury-related promotion and five SEC games remaining, Bielema isn't looking toward playing younger, less experienced players over their older teammates with an eye on the future. Arkansas has already played several first-year players on both sides of the play this season, including Kelley, running back Chase Hayden and cornerback Kamren Curl.
For now, the Razorbacks are hoping Kelley helps blend present and future hopes until Allen's return.
"I think we'll go with the best people that give us a chance to win," Bielema said. "I think in Game 6, you're looking at a team that's got six in front of us and we want to win as many as we can and hopefully get ourselves in a position to play one more."
Discussion
Have a comment on this story? Join the discussion or start a new one on the Forums.