Curl rises to the top early for the Razorbacks
Published: Thursday, September 14, 2017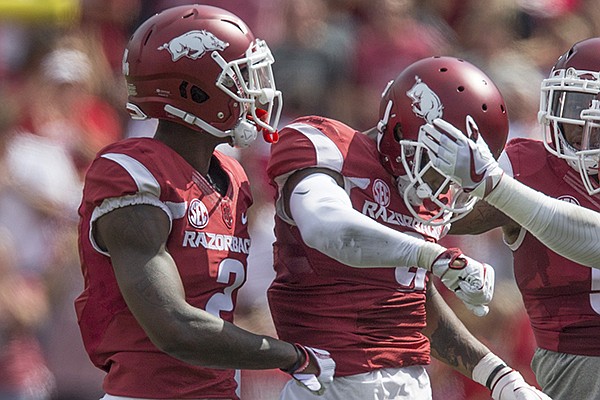 (
Ben Goff
)
Arkansas cornerback Kamren Curl, left, celebrates with safety Santos Ramirez after an interception during a game against TCU on Saturday, Sept. 9, 2017, in Fayetteville.
FAYETTEVILLE — One would have expected to hear the name of Arkansas true freshman defensive back Kamren Curl called a lot during last Saturday's game with No. 23 TCU.
The fact that it wasn't was a positive, since Horned Frogs' quarterback Kenny Hill was unable to exploit the youngster in TCU's 28-7 win over the Razorbacks.
Arkansas defensive coordinator Paul Rhoads was pleased with the effort from the San Diego native and former Muskogee, Okla., prep star.
"He did really well and not surprising to any of us who watch him on the practice field eery day," Rhoads said. " I would most say he was sort of quiet out there. You noticed him when he got beat deep that the kid dropped the ball. I don't know how much you noticed him the rest of the game. With a good corner sometimes that's the case.
"He played his loose coverage better. He played his press coverage very well. Did not have a lot of opportunities as far as tackling but is very capable and ready for that."
A play where TCU sent three wideouts to the same side and Curl jammed one of the them at the line of scrimmage jumped out to Rhoads.
"He's got a great physical presence too," Rhoads said. "He doesn't look like your typical freshman cornerback. So he's got those physical skills to go along with his mindset.
"But his mindset drives the physical piece. The things we're asking him to do are the same things I'm asking Henre' Toliver to do and I don't think twice about it because one's a true freshman and the other one's a senior."
Curl, who had 89 tackles and six pass breakups on defense and hauled in 46 catches for 533 yards and six touchdowns on offense his senior season, agreed he had a quiet game.
"I feel like I did pretty good," Curl said. "I felt I held my own a lot. It was really a quiet game for me so as a corner that is very good."
Curl was forced into action in Arkansas' 49-7 opening win over Florida A&M when starter Ryan Pulley went down with a season-ending inure in the second quarter.
"I didn't have time for butterflies," Curl said. "I just had to go out and play."
He does admit there were some butterflies leading up to the TCU game.
"Right before I had a bunch of nerves, but I had to go in and I am in that situation for a reason," Curl said. "The nerves went away right before the game."
He has learned something quickly in his college career.
"Respect receivers more even if I don't know nothing about them," Curl said. "Respect them and really play to my level."
After Saturday's open date, Arkansas (1-1) will host Texas A&M (1-1) in an 11 a.m. game in Arlington, Texas, that will be televised by ESPN. The Aggies host Louisiana-Lafayette this Saturday at 11 a.m. and have Christian Kirk, regarded as one of the better wide receivers in the SEC.
"We all know he is a playmaker," Curl said. "I probably won't be covering him that much because he plays slot, but if they move him outside I might cover him."
Curl has gotten a lot of help from veterans in the secondary.
"They help me a lot, always telling me stuff that I can improve on," Curl said. "And if I don't know something I go to them and they tell me what to do."
Curl was tested early by Arkansas' side receivers in fall camp, but quickly adjusted and jumped in as Pulley's backup.
"The first couple of days Jordan (Jones) and Deon (Stewart) were running right by me," Curl said. "Coach Rhoads got in my ear and said 'stay in your pedal' and all that because those guys are really fast. That really got me right."
While some expected Curl to land at Oklahoma, he had no in-state ties growing up there that factored into the decision.
"Not really," noted Curl, who moved to Muskogee in the ninth grade. "I am originally from San Diego so I didn't grow up loving OU or OSU like that. Everybody was thinking I was going to go from OU, but no. OU offered, OSU didn't."
His dad Greg Curl has been a big part of your life both on and off the field.
"He has been there the whole way and was really my first coach," Curl said. "He was always pushing me to do my best and that is how my mindset is - not slacking off on anything."
Discussion
Have a comment on this story? Join the discussion or start a new one on the Forums.