Plans to exempt Arkansas stadiums from gun law OK'd
By: Andrew DeMillo, The Associated Press
Published: Tuesday, April 3, 2018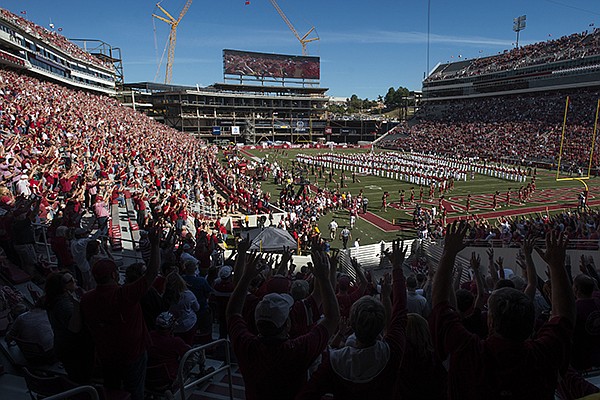 (
Ben Goff
)
Donald W. Reynolds Razorback Stadium is shown prior to a game between Arkansas and New Mexico State on Saturday, Sept. 30, 2017, in Fayetteville.
LITTLE ROCK — Concealed handguns won't be allowed at dozens of Arkansas college sports facilities, including the football stadiums for the Arkansas Razorbacks and the Arkansas State Red Wolves, after state police approved plans to exempt them from a law expanding where guns can be carried.
Eight schools have had plans approved by Arkansas State Police that allow their sports facilities to be exempted from the law enacted last year allowing concealed handgun licensees to carry at college campuses and other locations if they undergo additional training. Nearly 1,000 people have received the enhanced licenses since training began earlier this year.
Prompted by complaints from the Southeastern Conference and other groups, Arkansas lawmakers voted to exempt college sporting events if the schools have a security plan approved by state police. The follow-up measure also allowed similar exemptions for the University of Arkansas for Medical Sciences and the state hospital. UAMS has also had its security plan approved, while a Department of Human Services spokeswoman said the state hospital will submit a security plan.
The University of Arkansas' flagship campus in Fayetteville designated 18 facilities as "firearm sensitive" areas where concealed handguns aren't allowed, including Donald W. Reynolds Razorback Stadium and Bud Walton Arena. Athletic Department Spokesman Kevin Trainor said the facilities are classified as continuously gun-free, but if a non-collegiate athletic event is being held there, concealed handguns would not be prohibited at that event unless some other prohibition applied.
Arkansas State University's plan designated Centennial Bank Stadium at its Jonesboro campus as exempt, spokesman Jeff Hankins said. The school will submit plans for additional locations on the campus, he said.
The schools said the cost for implementing the security plans was minimal and was mostly limited to signs designating the facilities as gun-free. University of Central Arkansas spokeswoman Christina Madsen said the schools spent $3,072 to post signs at 14 athletic facilities around its Conway campus.
Other locations on campuses are automatically exempted from the expanded gun law without a security plan required, including daycare centers and certain grievance hearings. Private colleges and universities also aren't required to allow concealed guns on campus.
Democratic Rep. Greg Leding, who opposed the expanded gun law, said the security plans restore some local control to campuses but he'd prefer allowing schools to decide for themselves whether to allow concealed guns.
"I don't know why they couldn't just submit plans to effectively say, 'look, our campus is safe, we don't need act 562,'" Leding said.
A lead sponsor of the expanded gun measure who opposed the follow-up exemption law said he'd like to revisit the issue next year and add more locations where concealed carry is allowed.
"I plan on being very aggressive with expanding the enhanced carry (law) this next session," Republican Sen. Trent Garner said.
Discussion
Have a comment on this story? Join the discussion or start a new one on the Forums.