Razorback signee Jordan Phillips dealing with hip injury
Published: Tuesday, April 3, 2018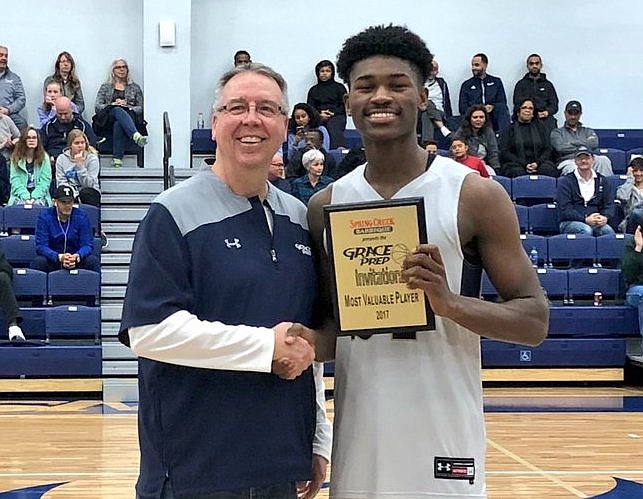 FAYETTEVILLE — Arkansas basketball fans won't get a chance to see future Razorback Jordan Phillips (6-7, 210) Thursday night at the Mike Conley, Jr. Challenge due to an injury that required surgery.
Phillips, who averaged 25.2 points, 9.7 rebounds, 2.4 steals and 1.5 assists per game this season for Arlington (Texas) Grace Prep, hurt his hip and had surgery recently to remove some extra bone.
"I don't know a lot more about it than it was a hip injury and he got that worked on," Arlington Grace Prep head coach Richie Alfred said. "He finished the season with us."
Game organizers hoped to have all six Razorback signees playing for the Arkansas All-Stars against a group of Tennessee All-Stars, but it appears it will just be in-state products Ethan Henderson, Isaiah Joe and Desi Sills.playing in the 7:30 p.m. game at Little Rock Hall.
Henderson, N.V., Findlay Prep power forward Reggie Chaney confirmed Wednesday night that he would not be making the trip across the country to play and would instead rest after playing in last week's GEICO National Tournament.
Phillips led Grace Prep to the TAPPS 4A state championship game and had a game-high 34 points, but a charge call against him with 2.7 seconds wiped out a go-ahead basket and allowed The Woodlands Christian to win 79-76 in double overtime.
"He had just a great season for us," Alford said. "Not only did he develop on the court, but as a leader as well. He became a better passer and was just as excited when he put his teammates into position to score as much as he was when he scored himself."
Phillips hopes to be back for the Texas High School Coaches All-Star game on April 18.
"I just got word this week that he had been invited to that," Alfred said. "It's a big honor for him and he is very deserving of it."
Alfred believes Phillips will bring lots of versatility to the Razorbacks next season.
"It's really hard to pigeonhole him into one spot," Alfred said. "He handles the ball like a guard, has the size of a forward and can guard just about anybody on the floor.
"I think you see the college and NBA teams going the way of having position-less players and I think that is what Jordan is. They will be able to play him just about anywhere and he'll succeed."
Discussion
Have a comment on this story? Join the discussion or start a new one on the Forums.