Arkansas expects to add to basketball roster this spring
Published: Thursday, April 5, 2018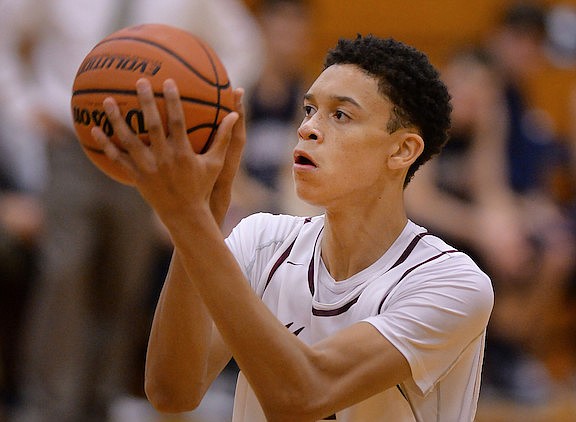 FAYETTEVILLE — Although Arkansas filled all of its available basketball scholarships in the early signing period, the Razorback staff continued to recruit in case something opened up.
That happened this week when freshman Darious Hall and sophomore C.J. Jones decided to transfer. That left Arkansas with only 11 scholarship players in place for next season.
The late signing period runs from April 11-May 16.
"We are out looking across the board and looking to see what would be the best fit or fits for our program," Arkansas assistant coach Melvin Watkins said Thursday. "We are not really closing the door on anything at this point and just really looking at what's out there."
Three names to watch as potential replacements include two junior college players, center Courtese Cooper (6-10, 205 pounds) of Triton Community College in Illinois and shooting guard Mason Jones (6-5, 202) of Connors State College in Oklahoma. Jones is expected to visit Fayetteville this weekend.
Arkansas coaches are expected to visit Southwest Christian Academy in Little Rock on Thursday to see guard Jahbril Price-Noel (6-7, 200).
Cooper and Mason Jones were qualifiers out of high school and would have three years to play at their next stop.
Cooper averaged 10.1 points and 6.8 rebounds while blocking 103 shots as a freshman. He helped lead Triton (33-4) to the National Junior College Athletic Association Division II national title with an 89-85 win over Pima (Ariz.) Community College in the championship game.
Cooper shot 55.8 percent from the field, 71 percent from the free throw line and 40 percent from 3-point range. He had 18 double-digit scoring efforts and six double-digit rebounding games.
Jones averaged 15.5 points, 6.9 rebounds and 2.9 assists per game this season. He shot 42.9 percent from 3-point range, 51.5 percent from the field and 77.4 percent from the free throw line.
Arkansas may also be in the market for a graduate transfer, which would keep a scholarship available for the 2019 class.
"We are not really ruling anything out as you have to think about the present and the future," Watkins said.
Discussion
Have a comment on this story? Join the discussion or start a new one on the Forums.