Red-White game rekindles hope for War Memorial revival
Published: Thursday, April 5, 2018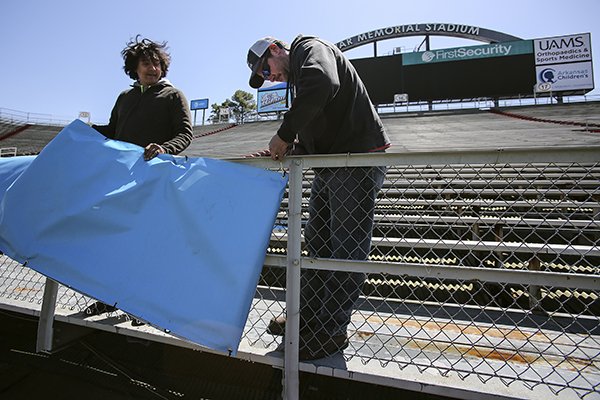 (
Thomas Metthe
)
Stadium workers Hugo Arias (left) and Josh Oliver (right) hang signs in the end zone of War Memorial Stadium on Wednesday, April 4, 2018, in preparation for the Arkansas Razorbacks' Red-White game on Saturday in Little Rock. War Memorial Stadium recently launched a new website, brand and veterans tributes. It is part of the stadium's next phase of development under the supervision of the Arkansas Department of Parks and Tourism.
It is not ideal for some aspects of recruiting to have Saturday's Red-White football game in Little Rock.
Notably, Arkansas coaches can have no contact with recruits at the game because it is off campus. Some recruits still will attend with their families and sit in the stands.
But in other ways, the decision by athletic director Hunter Yurachek and head coach Chad Morris to play the game in Little Rock seems like a great one -- true political football.
It is an olive branch extended to central Arkansas fans and business leaders. Those are two groups that no doubt felt neglected and under-appreciated by the former Razorback administration.
The Southeastern Conference approved the one-time move of the spring game to Little Rock because of ongoing construction work at Reynolds Razorback Stadium in Fayetteville. This will be the first Red-White game played off campus since 1989 in Hot Springs and the first played in Little Rock since 1988.
War Memorial Stadium has been getting bottom-of-the-barrel home games the last few years, causing fans not to show up at a place where Arkansas has played between one and four home games a year since 1948.
The fact that the Razorback administration was looking at bringing all the games to campus in the late 1990s caused acrimony and animosity, and spawned what came to be known as the "Great Stadium Debate," a term revisited in recent years.
All indications were that former athletic director Jeff Long was preparing to recommend to the UA chancellor that Arkansas move all of its home games to campus after one this season against Ole Miss. The Razorbacks' five-year contract with War Memorial expires this year.
While the UA Board of Trustees will ultimately make the call whether to continue games there, it seems like there is momentum in War Memorial's quest to hold on to a Razorback game after 2018.
Although I have lived in Northwest Arkansas for 36 of the last 37 years, I grew up near Newport in northeast Arkansas and relished the opportunity in the late 1960s and 1970s to see a game at War Memorial Stadium.
It was a romantic time between the Razorbacks and the entire state. The stadium was up to standards, and the roads to Fayetteville were nowhere near as straight or as wide as they are now. For many, War Memorial was the only option to see the Razorbacks live.
I understand the monetary side of things and know that Arkansas could make a lot more money playing all of its games on campus. But I believe there should be at least one game played in Little Rock each year, as long as the state finds the money to renovate the stadium, which is 70 years old.
Recent studies have found the stadium needs as much as $27 million in renovations. That includes $17 million worth of maintenance work and improvements to simply remain in useful condition, according to a study by The Convention Sport & Leisure International LLC.
That figure includes what the study calls critical issues that need to be done in three years or less, as well as non-critical ones in a five-year span.
Not included in that feasibility study were $10 million worth of improvements requested by UA leaders to meet demands of fans and TV partners, and potential changes to the SEC's minimum stadards to host a game.
Sports on 04/05/2018
Discussion
Have a comment on this story? Join the discussion or start a new one on the Forums.