Hill's meeting with Morris proves informative
Published: Tuesday, April 10, 2018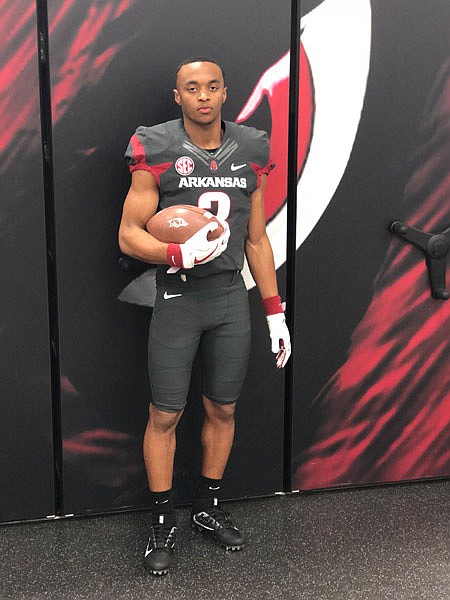 Now that Little Rock Christian standout Justice Hill and his father, Fitz, have all the information needed, they can make an informed decision on whether being a two-sport athlete is the best course of action.
Fitz Hill, a former Razorback assistant football coach and San Jose State head coach, accompanied his son - who is a 2019 Arkansas basketball commit - on a visit to Fayetteville on Monday for a sit down with Arkansas coach Chad Morris.
While there is not a football scholarship currently available for Hill yet, that could change if he chooses to pursue football as well as basketball.
"It was a great visit and very informative," Fitz Hill noted. "Really happy that this was the day we selected to come. It really worked out. We got to sit in on some team meetings, some individual meetings and just be a part of the whole day.
"I also got to reconnect with some people…And they had a great motivational speaker there today for the team meeting and I was glad that Justice got a chance to hear that. There are some of the same things that I try to tell him, but sometimes it doesn't get across as much as it could when you are the dad."
Both Hills were very impressed with Morris and were happy to see Razorback assistant Barry Lunney, Jr., a former Hill assistant.
"Coach Morris is really a great coach and it is clear that he has the hammer down and is going in the right direction," Hill said. "I think he is going to do a great job getting the program going back in the right direction. It was also really good to see Coach Lunney again."
The younger Hill committed to Arkansas head basketball coach Mike Anderson back on Feb. 14, 2016.
He averaged 14.9 points, 2.6 rebounds and 3.9 assists per game as a sophomore on the basketball court and over 20 points as a junior.
While Justice didn't play football as a sophomore after an outstanding freshman season on the gridiron, he returned to the football field and accounted for some 2,000 all-purpose yards while playing quarterback and receiver on offense as well as free safety on defense.
Fitz Hill said, "The number one thing he wants to do is have fun playing AAU basketball this season with the (Arkansas) Hawks and then try to lead the football team to a state title his senior season."
Hill has taken on-line courses, will graduate in December and enroll at Arkansas in January, 2019.
"We are very clear and articulate about what our plans are for Justice," Hill said. "He is on track to graduate in December and he is going to enroll at the University of Arkansas in the spring.
"He'll have a chance right there because he is gray shirting to evaluate everything. He'll get a chance to experiment. If something happens and there are injuries and Coach (Anderson) needs him, then he could play right away and be available, but I don't think that will be the case and that's not the plan."
He will also have the chance to see how he might fit in with football during the spring.
"He could also go down after the basketball season is over with and get in on spring football and get a look and see how he likes it," Hill said. "All those things could be worked out between Coach Anderson and Coach Morris if that should take place."
When - or if - Hill does play a down of football in the regular season for the Razorbacks, he would then have to go on football scholarship and not be on basketball scholarship.
"Yes, that's exactly what the case will be and it was something they came up with to keep football from stashing people in other sports and then just using them for football," Hill said.
"It was important for us to get across to Coach Morris that if he felt like Justice could be a help in winning football games, that we would be glad to come and help out.
"But also as a former college head football coach, I know that you can work with other programs on campus, but you have to first and foremost take care of yours first."
Discussion
Have a comment on this story? Join the discussion or start a new one on the Forums.