Big weekend of visitors planned by UA football staff
Published: Thursday, April 12, 2018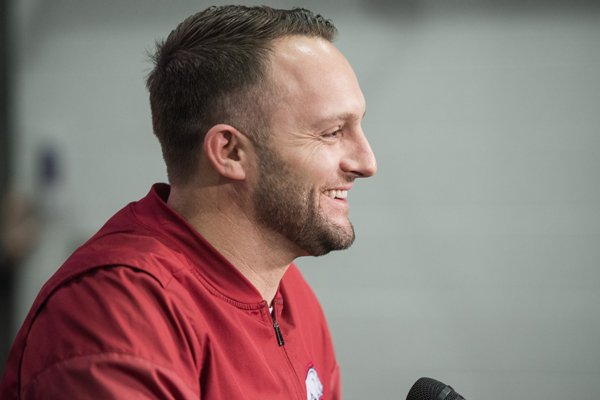 (
Ben Goff
)
Arkansas offensive coordinator Joe Craddock speaks during a news conference Wednesday, Jan. 10, 2018, in Fayetteville.
While the new December early signing period got most of the attention among several NCAA football rule changes last spring, there was another significant move approved that will begin to play out this weekend in Fayetteville.
That was the approval of a rule allowing juniors in high school to take official visits as soon as April 1 and up to June 24 in the current 2017-2018 recruiting cycle.
It was something that I greatly approved of as it allows kids to get a jump start on the process and was brought forward by the Oversight Committee and approved by the Division I Council and the Board of Governors last April.
While you have many kids who revel in the drama of making a late or signing day decision, you have far more who like to get it over early, including many finishing before their senior season starts.
The official visits are not allowed to happen when a program is having a camp or clinic and logically not off campus, which is why they are happening this weekend instead of during the chilly Red-White game in Little Rock last weekend.
That new official visiting period is a big change from the previous rule, which did not allow high school prospects to take official visits until Sept. 1.
The Arkansas staff will take full advantage of that beginning this weekend as it hosts seven juniors for an official visit.
Two of those are a pair of three-star mammoth offensive linemen in Trevor Roberson (7-0, 365) of Wellington, Texas, and Joseph Stone (6-8, 340) of Trussville (Ala.) Hewitt-Trussville.
Another offensive lineman set to visit officially is Arkansas three-star commit Beaux Limmer (6-5, 270) of Tyler (Texas) Robert E. Lee.
Defensive end Collin Clay of Oklahoma City Putnam will also be in for the weekend.
"We are extremely excited about what we have to offer at Arkansas," Razorback offensive coordinator Joe Craddock said recently. "We have a beautiful campus, a hungry staff and a drive to succeed and we are going to go after the best possible players that we can."
Arkansas will no doubt be pushing the fact that Fayetteville was just named the "Best Place to Live" in the SEC for a third straight year by U.S. News & World Report.
That is based on the USNWR's evaluation of the top 100 metropolis areas and factors in value, desirability, job market strength, quality of life and other factors.
Arkansas has unofficially hosted close to 600 prospects since the beginning of the year and around 1,000 coaches during spring practice.
"We know exactly what we have here, and we are happy to go out and sell that to prospects and their families," Arkansas head coach Chad Morris said.
While there will be no practice or game this weekend, the program will be hosting RazorFest on Saturday morning from 8:30 a.m. to 12:30 p.m.
Popular local band Funk Factory will be on hand to play beginning at 9 a.m. with Morris and his players available to sign autographs from 10 to 11 a.m.
The event will also feature a kids' zone area filled with inflatables, vendors and a rock climbing wall while fans can also grab a commemorative schedule poster.
Sports on 04/12/2018
Discussion
Have a comment on this story? Join the discussion or start a new one on the Forums.