Arkansas making push for Jadon Jackson
Published: Friday, April 13, 2018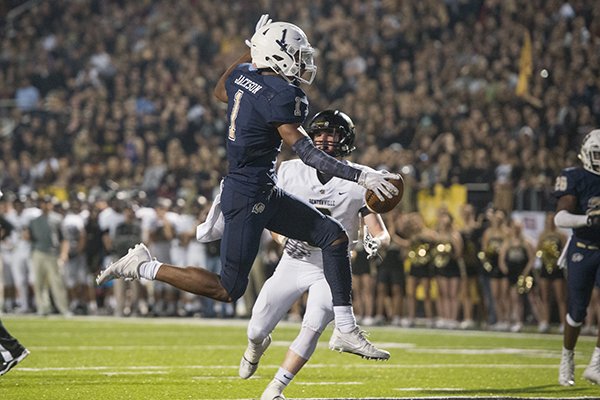 (
Ben Goff
)
Bentonville West receiver Jadon Jackson (1) scores a touchdown during the second quarter of a game against Bentonville on Friday, Nov. 3, 2017, in Bentonville.
FAYETTEVILLE — Bentonville West's Jadon Jackson is arguably the state's best receiver in the 2019 class and now has close to half of the SEC programs vying for his commitment.
Jackson (6-2, 175 pounds, 4.4 second in the 40-yard dash) had 62 catches for 1,214 yards and 14 touchdowns last season as West went 9-2 in the second year of its football program.
Arkansas, Georgia, Tennessee, Ole Miss, Missouri and Kentucky from the SEC are among many schools to offer Jackson. He also has offers from Oklahoma State, Indiana, Arizona State, Memphis, Tulsa and Louisiana-Lafayette, and Alabama and Oklahoma are staying in touch.
"He's a very level-headed kid and is still handling it the way he always does," Bentonville West coach Bryan Pratt said. "We have talked about how just because you are getting all these offers doesn't mean they can't be taken away if you don't handle yourself the right way. He's just the same kid that wants to get better every day and that's all we ask him to do."
Arkansas coach Chad Morris and his staff have made clear to Jackson, one of eight in-state prospects the Razorbacks have offered in the 2019 class, that he is a prime target.
"Actually Coach Morris and several of those guys were high school coaches in Texas when I was a young coach there so I know several of them," Pratt said. "I have talked to a lot of them already.
"I think Coach Morris was coaching at Stephensville when I first met him. He was young and just getting started so I think it is a big plus to have him at Arkansas."
Bentonville West and Arkansas run similar offenses, Pratt said.
"That's a big deal for Jadon because our offense is very similar to what they run so it is a good fit for him," Pratt said. "I really have a lot of respect for how they have come in and tried to get the hype up on the program. I think those guys are going to do a great job.
"It is all about recruiting. They have built the relationship with us and him and I think that is going to be something that helps them."
Jackson has only been able to visit Arkansas and Oklahoma State so far this spring.
"He has been so involved with track that he hasn't been able to go see much because he hasn't had a lot of weekends free," Pratt said. "He has gone to Arkansas and OSU. This weekend he has been invited to go to (Oklahoma), but I am not sure whether he is. That's pretty much it.
"I'm sure he will get around to seeing a lot of places this summer."
Pratt knows that Jackson needs to add weight and strength to compete better once he gets to the collegiate level.
"The weight room is something that is going to be a little different for him when he has kids with equal athleticism across from him," Pratt said. "He is going to have to get stronger and bigger and he understands that.
"But he continues to grow taller and that is the part that you can't really work on. He's 6-2 and I think yesterday ran a 10.9 (in the) 100 or something like that and has great ball skills. He also understands the game really well."
Bentonville West lost several seniors, but Pratt still expects to be very successful with an offense headed up by Jackson, quarterback Will Jarrett and tailback Tyrese Smallwood.
"We lost 32 or something like that and it will be tough to replace some of those guys, but we have a good nucleus of skill guys coming back," Pratt said. "Our all-state running back, our all-state quarterback and Jadon are all back and that is a good place to start.
"We have some young guys that hopefully will be able to keep the bar where we placed it and Jadon has a lot to do with that obviously. He'll continue to do that and lead us. We were 9-2 last year, but we were not satisfied with that and hope to go further in the playoffs next season and hopefully have a chance to play for the state title."
Pratt raves about Jackson's mentality.
"I think the cool thing about Jadon and I think he understands this its that it isn't just about him," Pratt said. "He is obviously a 17-year-old kid so he still makes mistakes and stuff like that, but he has never been one to come to the sidelines and want the ball more. We trust him and he trusts us and that's good for a young kid that has the talent level like he does."
Bentonville West will begin spring practice on May 1, but most of the workouts will come later in the month.
"We start May 1, but the first two weeks we are only going to go two days because you have so many kids in baseball and track and soccer so we try to save the majority of it for after those things are finished," Pratt said.
"I have gotten contacted by several people about showing up here and I am sure there are going to be more than I even know about once that dead period gets after with. I am sure they will keep coming around and it is going to be a big push for him and who knows, maybe we will get these other guys some opportunities."
Discussion
Have a comment on this story? Join the discussion or start a new one on the Forums.