ARKANSAS GYMNASTICS:
Razorbacks falter on vault, end year
By: Democrat-Gazette press services
Published: Saturday, April 21, 2018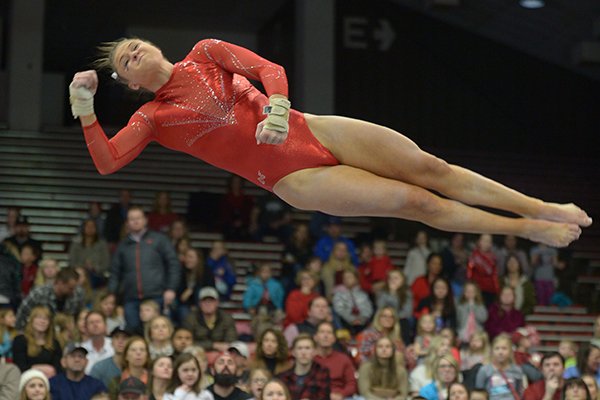 Arkansas' Amanda Wellick competes Friday, Jan. 12, 2018, in the vault portion of the 11th-ranked Razorbacks' meet with sixth-ranked Kentucky in Barnhill Arena in Fayetteville.
The No. 10 Arkansas Razorbacks had a poor performance on the vault on the third rotation and failed to advance out of session I at the NCAA gymnastics championships Friday afternoon.
The Razorbacks scored a 196.425 to finish sixth in the early session before a crowd of 5,282 at Chaifetz Arena in St. Louis. No. 3 UCLA, buoyed by a huge performance on the balance beam, won the afternoon session with a 197.5625 and advanced to tonight's Super Six, along with No. 2 LSU (197.475) and No. 7 Nebraska (197.0125).
The University of Arkansas, Fayetteville, competing in its eighth NCAA championship in 16 years of existence, was eliminated from the early session along with fellow SEC teams Georgia (196.6875) and Alabama (196.625).
Defending NCAA champion and No. 1 Oklahoma, Florida and xx advanced to the Super Six from the evening session.
UCLA won the balance beam with a 49.5375, the highest event score of the session, and Bruin gymnasts won three of the four events, including Kyla Ross, who took the all-around (39.6375) and the uneven bars (9.95). Peng-Peng Lee led three Bruins atop the beam with a 9.9875, and teammate Katelyn Ohashi took the floor exercise (9.9625).
Arkansas senior Amanda Wellick finished eighth in the all-around (39.4) and sophomore Jessica Yamzon finished 14th (39.1625).
The Razorbacks' top individual finishes came from senior Braie Speed, whose 9.875 tied for fifth on the vault, and sophomore Hailey Garner, who scored 9.8875 to tie for fifth on the balance beam. Wellick tied for seventh on the bars with a 9.8875.
The Razorbacks opened with a bye, then scored 49.075 on the floor, led by scores of 9.8625 by sophomore Michaela Burton and freshman Sophia Carter, who tied for 12th.
Garner's fall on her vault landing forced the Razorbacks to count a 9.725 by Yamzon and a 9.5125 by Burton, pushing their event score down to 48.75, effectively ending their chance of advancing.
Arkansas bounced back after a bye to post a 49.2875 on the bars, its best event score of the day. The Razorbacks wrapped up the session with a 49.2625 on the balance beam, led by Garner, Wellick (9.875), who tied for ninth, and the duo of Burton and Yamzon, who tied for 15th with 9.85s.
Sports on 04/21/2018
Discussion
Have a comment on this story? Join the discussion or start a new one on the Forums.