Several Arkansas grid recruiting targets set for Dallas Nike Regional
Published: Saturday, April 28, 2018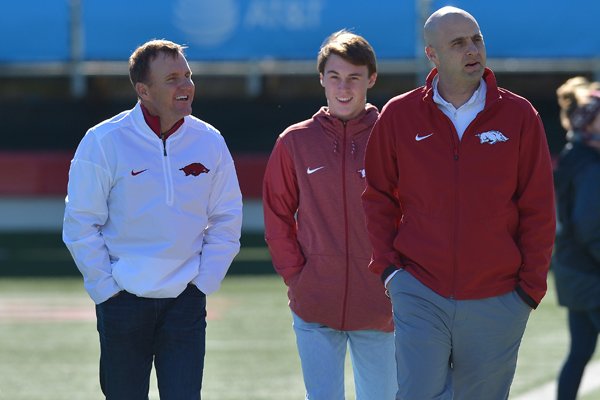 ( Jimmy Jones )
Arkansas head coach Chad Morris, left, walks with assistant coach Barry Lunney Jr., right, and son Chandler Morris, behind, prior to the Class 4A state championship game between Warren and Arkadelphia on Saturday, Dec. 9, 2017, in Little Rock.
ARLINGTON, Texas — Now that the Arkansas football program is back in the business of recruiting full-time in the state of Texas, events like Nike's The Opening Regional Camp on Sunday allow for the opportunity to see plenty of prospects in one place.
There are expected to be around 600 players - a majority of them from Texas - on hand from 10 a.m. to 5 p.m. at Euless Trinity High School, although there will also be players from Arkansas, Oklahoma, Georgia, Florida, Louisiana and Hawaii.
Arkansas cornerback commit Malik Chavis (6-3, 180 pounds) of Rison; highly-recruited Camden Fairview offensive lineman Stacey Wilkins (6-7, 275); Joe T. Robinson linebacker Zach Williams (6-4, 215); and Putnam City (Okla.) defensive end and recent official visitor Collin Clay (6-5, 250) are four players that have Arkansas offers slated to be at the Nike camp.
Some 2019 Texas prospects expected to be in camp with Razorback offers are Mansfield defensive lineman Enoch Jackson, Mansfield Legacy safety Jalen Catalon, wide receivers TQ Jackson of Jefferson and Garrett Wilson of Austin Lake Travis, and Southlake Carroll defensive back RJ Mickens.
Other Texas standouts that Arkansas is involved with planning to be at the Nike event include defensive back Miles Williams of Mansfield, Tascosa tailback King Doereu, Newton tailback Darwin Barlow, Crandall offensive lineman Branson Bragg, 2020 quarterback Hudson Card of Austin Lake Travis, 2020 wide receiver E.J. Smith of Dallas Jesuit and 2021 wide receiver KJ Liggins of Coppell.
Baton Rouge, La., Southern Lab tailback Chavis Thornton was offered by the Razorbacks this week as was Mansfield defensive back Miles Williams and both are set to be in attendance.
Amite, La., wide receiver DeVonta Lee took an unofficial visit to Fayetteville recently and will be on hand Sunday for the event.
Some Oklahoma products involved with Arkansas and signed up include defensive end Trace Ford of Edmond Santa Fe and Broken Arrow defensive back Myles Slusher.
Jackson, Miss., Academy wide receiver Jai Mason and Oklahoma tailback commit Jase McClellan of Aledo, Texas, are two 2020 prospects that the Razorbacks have had contact with so far.
Highland Park quarterback Chandler Morris, the son of Arkansas head coach Chad Morris, is also slated to be on hand. He is in line to take over for Razorback signee John Stephen Jones and try to win the school a third straight state title.
Former Arkansas quarterback commit Ty Evans of Palmer, Colo., is also slated to participate. Evans de-committed from the Razorbacks when former coach Bret Bielema was let go.
Some other Arkansas prospects planning to participate Sunday are four more Joe T. Robinson prospects in offensive lineman Elliott Harris, quarterback Greyson Tackett and defensive backs Jaiden Lee and Courtney Snelling.
Fort Smith Northside has defensive back Elijah Tabut, tailback Derrick Wise and offensive lineman Stevie Young working out.
Other Arkansas players registered are Fayetteville quarterback Darius Bowers, Magnolia running backs Kayden Roach and Terry Lambert, Little Rock Christian defensive back Robert Springer, Jr., Benton linebacker Kyvin Carroll, Junction City linebacker Dhante Gibson, Jonesboro defensive lineman Kevin Pointer and Bryant tailback Latavion Scott.
Discussion
Have a comment on this story? Join the discussion or start a new one on the Forums.