Sunday Nike Regional Updates
Published: Sunday, April 29, 2018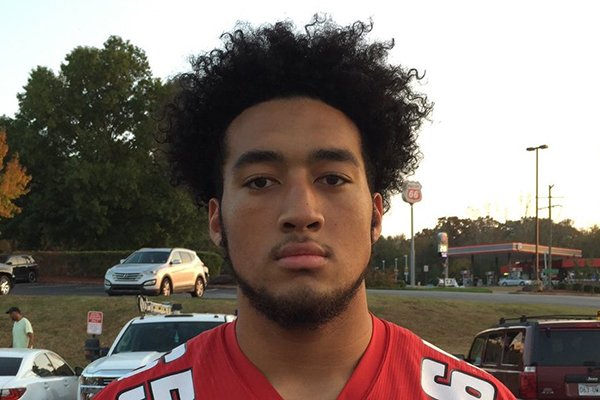 Stacey Wilkins of Camden Fairview
There are expected to be some 600 or so prospects on hand today at Euless Trinity High School with numerous Arkansas targets.
• Camden Fairview offensive lineman Stacey Wilkins (6-7, 275) announced Sunday morning that he would not do any interviews with any media outlets while at the camp.
Wilkins, who has plans to take official visits to Arkansas (June), Texas (May) and Oklahoma (September), has some 22 offers to this point.
• The event opens with an offensive-defensive linemen camp that runs from 10 a.m. through 12:30 p.m.
Running backs and linebackers will compete against each other from noon until 2:25 p.m. with quarterbacks and tight ends working out from 1:20-5 p.m.
Wide receivers and defensive backs will match-up from 2:30-5 p.m.
• • •
11:50 a.m. update
There are six offensive and four defensive line prospects with Arkansas ties going through the first camp for those guys in the trenches.
The offensive linemen are Camden Fairview's Stacey Wilkins, Fort Smith Northside's Stevie Young, Pulaski Robinson's Elliott Harris and Crandall, Texas standout Branson Bragg.
Wilkins is very lean at 275 pounds now, but has the frame to put on a lot more weight. Young is probably one of the more underrated players in the state. Harris' dad played at Arkansas and he has a lot of potential. First look at Bragg, who is very fundamentally sound.
The defensive linemen Arkansas has offered that are here are Putnam City, Okla,, star Collin Clay - who is limited due to an injury - and Edmond, Okla., Santa Fe's Trace Ford.
Mansfield, Texas, Legacy's Enoch Jackson and Jonesboro's Kevin Pointer were both on the original list, but are not participating.
Clay, who has already taken an official visit to Arkansas, is the real deal as a defensive end. He's 6-5 and his dad is 6-10. Ford is a nice combination of size and speed. Pointer is a in-state prospect that has been very productive for the Hurricane.
• • •
1 p.m. update
Camden Fairview offensive lineman Stacey Wilkins decided to do interviews after all. Good decision from him after previously announcing via Twitter that he wouldn't.
Notes Arkansas (June), Texas (May) and Oklahoma (September) are still the three schools that he for sure will take official visits to this summer and early next fall. Will take a couple of others, but does not plan to make a decision until the end of his senior season at this point.
Putnam City defensive end Collin Clay injured his hamstring running the 40-yard dash here on Sunday morning and had to watch the rest of the activity. He made it clear that the Razorbacks are still at the top of this list and his leader in the clubhouse.
Clay, who took his official to Arkansas in early April, does plan to take at least two other official visits to TCU and North Carolina, where he lived until 2013.
Crandall, Texas offensive lineman Branson Bragg (6-5, 295) looked very good in drills this morning. He was offered by the current Arkansas staff when it was at SMU. He has Arkansas in his top eight schools although he has not been to visit the campus yet. He plans to do that soon.
Edmond, Okla., Santa Fe defensive end Trace Ford was phenomenal in drills and rarely blocked. Ford says Arkansas is all over him and the Razorbacks are very high on his list.
• • •
3 p.m. update
Neither Joe T. Robinson defensive end Zach Williams or Razorback defensive back commit Malik Chavis were able to make it.
Little Rock Parkview freshman tight end Erin Outley (6-3, 230) is here and has shown he is going to be a big-time prospect.
The offensive and defensive linemen, tight ends, tailbacks, linebackers and running backs have all completed their day of work.
Quarterbacks, wide receivers and defensive backs now at work.
7:30 update
• The long hot day of action is over. My phone fell victim to the near 90 degree temperatures three times and shut itself down and the computer did so once, but both pushed on as did the campers.
• I did not see Highland Park junior quarterback Chandler Morris, son of Arkansas head coach Chad Morris, and he was not listed on the final roster of participants.
• One of the nest defensive backs on the day was four-star junior Southlake Carroll cornerback R.J. Mickens, a 2020 prospect who took an unofficial visit to Arkansas last week and is the son of former NFL player Ray Mickens.
He was very impressed with the school, the area and the Razorback coaching staff, which he knew first from their time at SMU. He is a big corner with speed that does really well in one-on-one situations and has 22 offers.
• Austin Lake Travis junior quarterback Hudson Card - another 2020 prospect - has offers from Arkansas, Texas, Alabama, Auburn and many others and was among the standouts of the quarterback group.
Card has great technique and a really strong arm and it was easy to see why so many schools have offered him early.
Discussion
Have a comment on this story? Join the discussion or start a new one on the Forums.