Middle Henry plans to carve own path
Published: Wednesday, August 8, 2018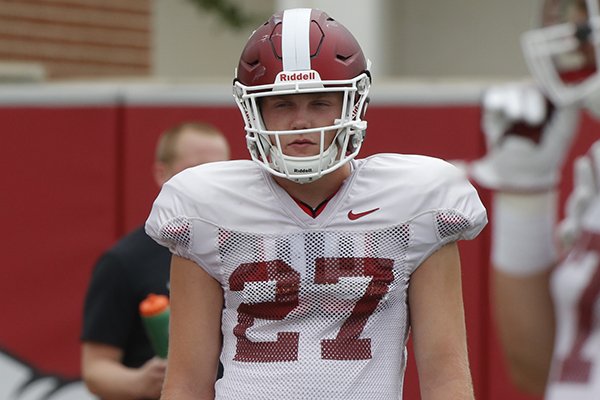 (
David Gottschalk
)
Arkansas linebacker Hayden Henry watches drills during practice Tuesday, Aug. 1, 2017, in Fayetteville.
FAYETTEVILLE — When your older brother is a former Razorback All-American tight end and current NFL player and your younger brother is the nation's top-ranked high school tight end, it might be a little tough to carve out your own path.
But Hayden Henry, the middle son of Mark and Jenny Henry, is doing just that for himself on the other side of the football for Arkansas.
Henry (6-foot-2, 225 pounds) is a sophomore linebacker, one that put on 15 pounds in the off-season and is set to see a significant amount of playing time this season in new defensive coordinator John Chavis' scheme.
He led all defenders in the Red-White spring game with eight tackles.
"Physically, I feel so much better," Henry said. "I have gained 15 pounds, but I am the fastest I have ever been in my life right now. The mental side is that Coach Chavis is such a good teacher that I am picking up on the defense way faster than the defense I was picking up on last year.
"He is teaching a whole lot more than we had in last year and I am picking things up. The physical side is just allowing me to play faster and more physical and taking control when I am out there instead of just being bullied while I am out there."
Hayden Henry played in all 12 games and had three tackles as a freshman while mostly playing on special teams.
His brothers are San Diego Chargers tight end Hunter Henry and Pulaski Academy senior tight end Hudson Henry (6-5, 230). Hayden Henry is excited about the help he is getting from starters Dre Greenlaw (6-0, 227) and De'Jon "Scoota" Harris (6-0, 245).
"Dre and Scooter have been great about kind of welcoming me in a lot," Henry said. "Those are two guys that are extremely tenured in their SEC play. They have seen the field, they know what it is like under the lights. I played some last year, but not much on defense.
"It's been great just being out there with them just running with the one defense, flying around and making plays and feeling comfortable. I'm excited."
Henry had scholarship offers from Air Force, Navy and others, but chose to blue shirt at Arkansas in hopes of getting a scholarship after his first semester.
That's exactly what happened soon after new head coach Chad Morris arrived.
"It was really nice," Henry said. "More for me it was just a weight lifted off of my parents for having to pay for school for a semester. I had scholarship (offers) coming out of high school that I could have taken and they wouldn't have ever had to pay for anything. So I was just grateful to my parents for doing that for me and being very unselfish in that way and allowing me to pursue my dream and come play big-time football.
"But when I signed those papers, it was definitely just the best feeling in the world."
Arkansas is hoping that it will land the youngest Henry, a four-star prospect that is one of the top 60 players nationally per ESPN. He has recently said that Arkansas is in great shape to land his signature.
"Hud has a lot on his plate right now," Henry said. "We talk a lot and he is going to make the best decision for him."
Older brother Hunter is currently rehabbing a torn ACL suffered this spring that will likely have him missing most of the upcoming NFL season.
"Hunter is great," Henry said. "We talk often and he is just working, working, working trying to get back. They are trying to see if maybe he can get back before the end of the season.
"He is doing a lot better. For just coming off ACL surgery right around two months ago, he is moving around a lot better and doing things he shouldn't be doing. He is a grinder and he is going to get back on the field."
The three brothers were together this summer when Hunter married the former Parker Schmidly.
"He was toughing it out," Henry said. "He was a month out then and he was dancing on his leg and doing all kinds of stuff. We had great time and I am really excited for him and Parker."
Discussion
Have a comment on this story? Join the discussion or start a new one on the Forums.