Joe's 34 points leads Arkansas to rout of FIU
By: Andrew Epperson, Associated Press
Published: Saturday, December 1, 2018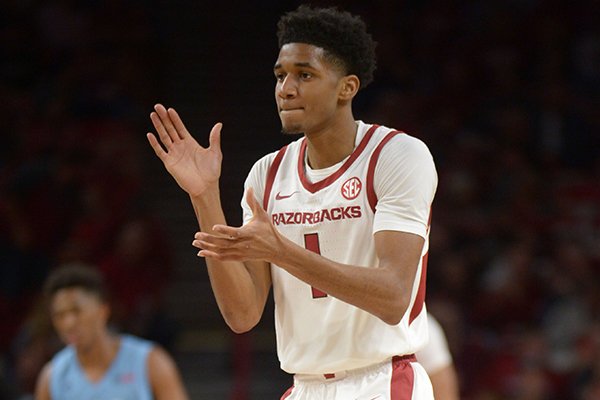 (
Andy Shupe
)
Arkansas guard Isaiah Joe is shown during a game against Florida International on Saturday, Dec. 1, 2018, in Fayetteville.
FAYETTEVILLE — Prior to Saturday, the only Razorbacks freshmen to score 34 points in a game were program legends.
Scotty Thurman, whose late 3 lifted Arkansas to a victory over Duke in the 1993 National Championship, did it twice. Bobby Portis, now a forward for the Chicago Bulls, poured in 35 against Alabama in 2014.
Isaiah Joe joined that exclusive club with a 34-point, 10-triple night in Arkansas' 121-89 victory over Florida International. The performance also marked the third-most 3s in in a game in program history.
"I'm just fortunate that my teammates kept finding me and my open looks and (I kept) knocking them down," Joe said. "It's a great honor. All those players who made it into that club are great players, and just to be following in their footsteps is a great honor."
Joe's efficiency headlined a high-percentage night overall for the Razorbacks (5-1), who hit 13 total 3s at a 52-percent shooting clip. The Hogs entered the game shooting just over 30 percent from deep.
Daniel Gafford scored 23 points in 23 minutes and registered six of Arkansas' eight dunks. As usual, he proved to be a problem for his opponent down low, hauling in 12 rebounds and blocking four shots. He said the team's ability to score inside the paint and behind the arc makes the Hogs a tough team to beat, regardless of competition.
"We like to start inside-out, and as long as we can score on the inside, we can basically be one of the best teams," Gafford said.
Mason Jones added 19 points and 10 rebounds, and Adrio Bailey finished with 10 after scoring seven in the first six minutes of action.
The last time Arkansas eclipsed the 120-point mark was in a 130-68 victory over Alcorn State in 2009, and it was the first time the team had done so in eight years under coach Mike Anderson. The Razorbacks have scored at least 120 16 times in school history.
"Obviously, they wanted to play up tempo, we wanted to play up tempo, and I thought our guys played well," Anderson said. "We had a lot of contributions from a lot of players on this basketball team. The bench came in and played well."
Despite shooting 12 more 3s than Arkansas, the Panthers couldn't replicate the Hogs' long-range success. They were an abysmal 6 for 37 from range. They dropped to 7-2 on the season and snapped a four-game winning streak.
Four FIU players scored in double figures, led by Brian Beard's 21.
BIG PICTURE
Florida International: The Panthers' 7-1 start was the best in program history, but the game against the Razorbacks was their first test against a power-five opponent. With a nice 11-day break before their next game, they'll have an opportunity to regroup with one more nonconference opponent before they begin conference play.
Arkansas: The Razorbacks are on a five-game winning streak after losing their season-opening game to Texas on Nov. 9. The Hogs' backcourt continues to show its ability to consistently knock down 3s, which puts opponents at a disadvantage when they double team Gafford in the post like they did early in the season.
Discussion
Have a comment on this story? Join the discussion or start a new one on the Forums.