Vest's Razorback dream gets closer to reality
Published: Friday, December 7, 2018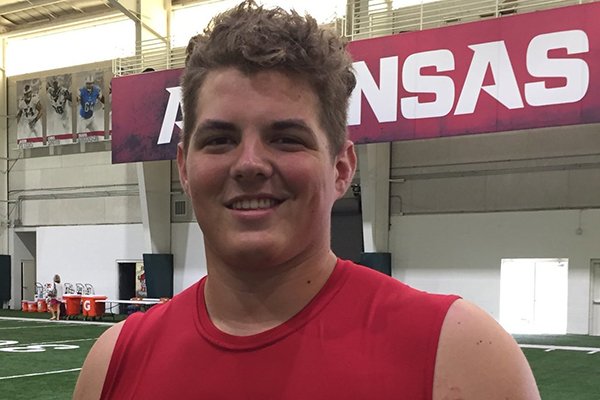 ( Richard Davenport )
Searcy OL Drew Vest
Searcy offensive lineman Drew Vest is officially visiting his new home in Fayetteville this weekend and will be back with all his stuff next month.
Vest (6-5, 295), who will enroll at Arkansas in January, is one of seven official visitors the Razorbacks are scheduled to host this weekend.
He made the decision last month to decommit from the University of Central Arkansas and turn down numerous other scholarship offers and instead take a spot as a preferred walk-on with the Razorbacks.
"The main thing it came down to - and I hate to say this but it is true - is that I am not going to have to worry about money because of my grades," Vest said in noting he would be receiving academic scholarships. "When I knew that was the case, that was what decided it for me.
"Once I knew that, the ability to say that I am going to be a Razorback was within my grasp and I knew if I did not take advantage of this now, I would look back in 30 years and really been kicking myself because I had the chance to be a Hog and didn't do it."
Vest is one of four high school offensive linemen that Arkansas is bringing in in the 2019 class with Brady Latham (6-5, 290) of Jenks, Okla., Beaux Limmer (6-5, 270) of Tyler, Texas, Lee and Dylan Rathcke (6-5, 295) of Baton Rouge, La., University Lab being the other three.
The Razorbacks are also trying to land at least a pair of early enrollee junior college offensive linemen in Scranton, Pa., Lackawanna Community College's Chibueze Nwanna (6-8, 314) and Iowa Central's Myron Cunningham, who are also scheduled to take their official visits this weekend.
"Hopefully we can get a couple of those guys to get on board and make something great happen," Vest said.
Vest is excited about getting a jump on things by enrolling at Arkansas in January and being able to get used to college life, go through the offseason in a college weight room and go through spring practice.
He will be back on Jan. 13 to get ready for the spring semester.
"It is going to be huge for me because I am not at the development level that some of the guys coming up are," Vest said. "I think me coming up six months early is going to be huge in terms of getting me to the level at or even above the level of these other guys coming in. I think it will give me a leg up in knowing the plays and will make it just another day at the office for me.
"Coming up early has just such a huge, huge upside and no downside."
Vest knows he might get a little homesick early on, but knows it is time to take the next step away from Searcy, which was 9-3 this season.
"I have thought about it a little bit and I would say that it has caused some anxiety as I think about going from high school to college, but I know this is the opportunity of a lifetime," Vest said. "There will be some emotions, but you have got to handle them the right way."
Vest knows he is a work in progress, but stresses the mental part of the game as well as the physical one.
"I think my knowledge of the game is the biggest thing that I pride myself in," Vest said. "I really try to learn what the whole defense is doing and not just the guy across from me or the front seven. I want to keep learning about how what the front guys do dictates what the linebackers do and how that dictates what the secondary does.
"As far as things I am working on, I am always working on my strength and my footwork."
Discussion
Have a comment on this story? Join the discussion or start a new one on the Forums.