Hilltoppers win in battle of big men
Published: Saturday, December 8, 2018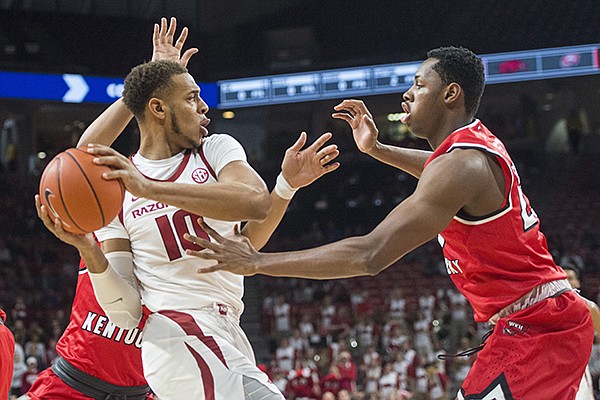 (
Ben Goff
)
Arkansas' Daniel Gafford (10) is guarded by Western Kentucky's Charles Bassey during a game Saturday, Dec. 8, 2018, in Fayetteville.
FAYETTEVILLE — Western Kentucky came to the so-called "Basketball Palace of Mid-America" on Saturday afternoon and promptly sent Arkansas into the Pit of Misery.
Sensational freshman Charles Bassey had 21 points, 9 rebounds and 5 blocks, and assisted on the game-winning basket with 19 seconds remaining to lead the Hilltoppers to a 78-77 win over the Razorbacks at Bud Walton Arena.
Bassey was matched up against fellow 6-foot-11, likely first-round NBA draft pick Daniel Gafford, who had 17 points, 9 rebounds and 2 blocks in a loss that ended a six-game win streak for Arkansas (6-2).
"Teams are going come at us whether we home or on the road, they are going to come and leave it on the floor," Arkansas coach Mike Anderson said. "Your want-to has got to be much, much better than theirs and I thought they wanted it a bit more than we did."
Western Kentucky coach Rick Stansbury was thrilled with the win for his Hilltoppers (5-4), who had beaten No. 13 West Virginia earlier this year, but also lost to Indiana State and Missouri State.
"We knew coming into here it's not just a very difficult place to play because of your fans, it's a difficult place to play because of the team you've got between those lines," Stansbury said. "And I'll tell you, Mike's got the most improved or surprising team in the Southeastern Conference this year.
"For them to come into this game being whatever they were after losing all those players they lost last year, they're much better than anybody ever anticipated them being… They're a whole lot better to have such a young team and a new team. They are by far the surprise team in the league."
Stansbury's team came into the game off an 84-78 loss at Missouri State on Wednesday. The Hilltoppers found themselves trailing Arkansas 13-4 early Saturday.
"We kind of came in limping a little bit," Stansbury said. "We've got a new team, really not playing with a true point guard. We've started three point guards in the last three games probably, trying to figure it out a little bit. That don't make you sleep very good, knowing you've got to come in here and handle this pressure.
"But give our guys credit. They did two things today that you've got to do on the road to win that I've been preaching and hadn't really seen it. That is, you've got to have that grit. Where's our toughness and where's that grit at? That overcomes a lot of things. I saw it today.
"We had two guards — we started the freshman point guard (Dalano Banton) who had seven assists and Tavieon (Hollingsworth) had six, so 13 between them. We hadn't had 13 assists as a team all year long probably."
He was also pleased with how Bassey battled Gafford.
"Well our guy is pretty good," Stansbury said of Bassey. "Gafford is a terrific player. I think Charles from the tip had to understand what we said how fast Gafford is in transition. He didn't go in transition from the tip, he just started from half court and got a layup. It's like he was shot out of a cannon. Not many big guys can run like Gafford.
"Charles got really, I thought it got into his legs a little bit today, too, from a fatigue standpoint. But Charles was a man, too. He stood up and held his own. He made a great read late in that game, we're down one, a great pass. Those are kind of plays and kind of games that will make him better too. Charles is a really good young big guy."
Isaiah Joe had 16 of his team-high 19 points in the first half for Arkansas, which led 41-33 at the break.
The loss broke a streak of 46 straight home games Arkansas had won when leading at halftime, and ended a 64-game streak overall.
Mason Jones had 11 of his 15 points after halftime and Arkansas point guard Jalen Harris had 13 points, 7 assists, 4 rebounds 2 steals and no turnovers in 37 minutes.
Western Kentucky went on a 24-8 run to start the second half to go ahead 57-49 with 12:43 remaining. Bassey and Jared Savage (20 points) led the way.
"That first four minutes was key," Stansbury said. "Down eight, first timeout up two. Jared got us going. Jared jumped up and made some huge shots for us, played big, played a lot of minutes. And again, as I just told my team, I would be proud of them today whether they won or lost because I saw something I wanted to see in us, some fight and some grit.
"Now naturally it's a lot better when you get that (win) too. That's something we can build on. But I'm proud of these guys. We've been fighting some things. We know we're going to be good in time. We're a work in progress right now. But these kind of games will mold you a little bit. So I'm awful proud for them."
Freshman point guard Desi Sills' inspired second-half play in which he scored all of his career-high nine points got Arkansas back into the game. He scored six straight points to tie the game 62-62 with 8:35 remaining.
"He did what he does," Anderson said. "He willed us back into this game. We went down I think eight points and I thought his defensive presence out there, his energy level, attack the basket, finishing, he was just dialed in.
"That's what I'm looking for. I'm looking for those guys that in the waning moments, when you have to make plays, who are those guys going to be? No question about it, it was very impressionable, that young guy coming out tonight and how he played."
Arkansas' last lead came when Gafford dunked off an offensive rebound with 45 seconds remaining to put the Razorbacks ahead 77-76.
While Arkansas' bench did not have a great game, Anderson was quick to out that it was his starters that struggled out of the gate in the second half.
"It wasn't the reserves," Anderson said. "I thought it was the guys that started off. They were real sluggish. We were sloppy with the basketball. We didn't score. We missed a lot of little shots inside.
"And then I thought they were actually getting some easy opportunities. They spread us and our help side was not there. Again, it's the opposite of how we've been playing. I thought defensively that was probably one of our worst performances."
Anderson felt like Western Kentucky played the game at its tempo.
"I thought that for the most part they did," Anderson said. "We had some spurts there in the second half, even when we got down. I thought early in the game we made some shots early on and the emotion of coming and playing at home was there.
"But I thought they did a good job of controlling tempo and then when you don't make shots, it is going to rely a lot on your defense and, like I said, I just thought we were a little sluggish. I don't know if it was a Colorado State hangover coming from there where we shot the ball well and played well ad then its a quick turnaround. At the end of the day, they made more plays than we did. They had one more play than we did."
The Razorback reserves scored 26 points in the 98-74 win at Colorado State on Wednesday, but had only 13 on Saturday with Sills' nine leading the way.
"They had been playing better, much better," Anderson said of the reserves. "They didn't play well. That's a big component of our basketball team is our bench, guys coming in and bringing energy and bringing that defensive mindset. We didn't do that tonight so it is a learning curve and every game we play is going to be a big game.
Arkansas has final examinations next week and will play again next Saturday in North Little Rock's Verizon Arena against Texas-San Antonio.
"At the end of the day, we just have to learn," Anderson said. "This week is going to be a week of… obviously the most important thing right now is to finish up in the books as best they can and we'll fit in some practice times around the finals schedule."
Discussion
Have a comment on this story? Join the discussion or start a new one on the Forums.