Arkansas hoops target Doudou Gueye shows off versatility
Published: Saturday, December 15, 2018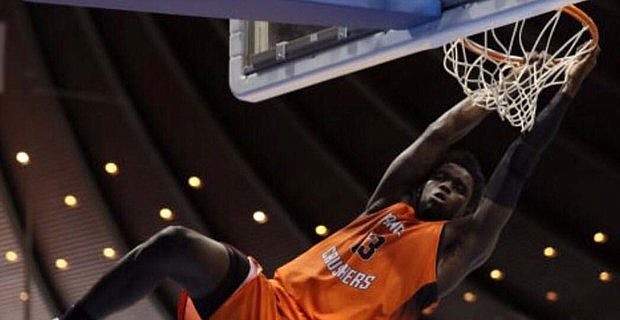 FAYETTEVILLE — Arkansas junior college recruiting target Doudou Gueye put his first semester of American basketball to bed with a win Friday afternoon.
Gueye (6-9, 220 pounds) of Dakar, Senegal, who played his first year of college basketball in Japan, had five points, five rebounds and blocked a shot to help lead Daytona State (Fla.) College over DME Sports Academy 89-73. His team improved to 13-2.
"He is such a good player, very versatile, is 6-9, 220 and has a very high ceiling," Daytona State first-year coach Blake Morris said. "He really can defend and rebound. He can really shoot and is in fact shooting almost 35 percent from 3-point range."
Gueye is averaging 10.5 points, 5.9 rebounds and 2.3 assists, shooting 52.1 percent from the field, 35 percent from 3-point range and 52.4 percent from the free-throw line this season.
"We really play four guards around one big guy and he really is one of the guards, to be honest, but he is also big enough that he scores at the rim all the time also," Morris said. "I think in college he will be one of the new age fours like LeBron James or Draymond Green or someone like that.
"He can score at all three levels and that is really who he is and why he is so attractive to everybody. He brings the ball up the floor and plays point guard at some times for us. Maybe point forward is the best term for him."
Arkansas coaches were on hand to see Gueye play in a junior college jamboree on Oct. 12-14 and also a home game in Daytona on Nov. 24.
Morris is a big fan of Razorbacks coach Mike Anderson and his staff.
"They are great, great men and really, really good basketball coaches," Morris said. "I have been following Coach Anderson since he was at UAB while I was growing up in Alabama. I do a lot of the same things that he does on the court.
"They are great, great people that not only teach kids things on the floor, but teach them how to be men off the court."
Arkansas, Ole Miss, Texas Tech, Seton Hall, and East Carolina have offered Gueye, while Arizona, Kentucky and Michigan are among others showing interest.
He joins former Virginia Tech center Khadim Sy (6-10, 240) on a team whose starting five are all Division I prospects. Bryce Williams (Ole Miss), Corbin Merritt (Oklahoma) and Durey Cadwell (Buffalo) have already signed.
"Everybody knows about Khadim's post-up game and he was shooting around 90 perfect in the paint until recently and he has a nice touch and really quick feet," Morris said. "He started 28 games as a freshman in the ACC as a freshman and averaged four points while playing about 11 minutes a game.
"He has done a good job at expanding his game and can hit the 3-pointer now and really gets in the gym a lot on his own."
Morris has gotten a lot of calls and visits on Gueye and Sy, who is averaging 18.5 points and 9.0 rebounds per game this season.
Both plan to take their official visits at the end of the season.
"Everybody in the SEC has called, probably about every school in the Big 12 has called and probably half the ACC," Morris said. "Arkansas is only recruiting Dou."
Morris is a former assistant coach at South Alabama and the College of Southern Idaho after being a graduate assistant at Alabama under Anthony Grant and a director of basketball operations for Louisiana-Lafayette for four years.
Gueye averaged 28 points and 14 rebounds and was named the Division 1 Player of the Year last season while playing in Hachioji, Japan.
"If you are in college basketball coaching for a long enough time, you make connections and I had a guy that called me name Ro Russell that had seen him play and told me about it," Morris said. "We made contact after that, watched tape and evaluated him because we do not have the recruiting budget to go over to Japan.
"After talking about him and seeing how serious he was and how good a student he was and how he was 6-9, 220, we thought it would be a chance worth taking."
Daytona State's only two losses have come at the hands of Snead State (75-72) and Tallahassee Community College (66-64).
"We have got a lot of talent, but I think we have really been close as a team as well," Morris said. "We play for each other. We only have one player who played American college basketball last year.
"We are still going through growing pains and our two losses were both in the final minutes. Our two losses both came in the final minute. We have really trailed for only about 25 seconds this year, but I think they will be good losses for us if we can learn from them."
Unlike other junior college programs that take a month off over the break, Daytona State is only taking a two-week break before getting back on the court Saturday, Dec. 29 against Game Changers.
"My background is in college basketball the last 8-10 years and I am not used to having that long a break," Morris said. "I thought I would maybe divide it into two seasons with some time for them to rest their bodies, but also not be gone too long.
"We'll see how it works. I might change my mind next year. Might be longer, night be shorter."
Discussion
Have a comment on this story? Join the discussion or start a new one on the Forums.