Analysis: Bush lockdown continues Arkansas' defensive talent infusion
Published: Friday, December 21, 2018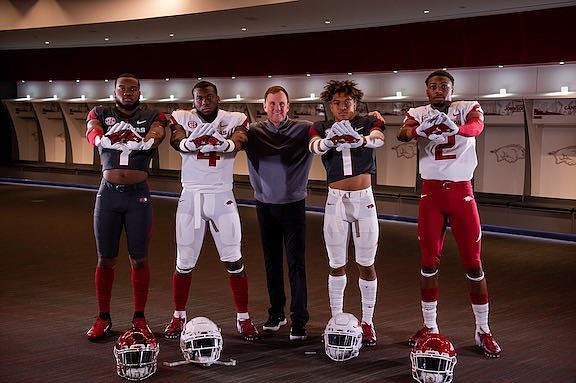 Devin Bush, Lakia Henry, Chad Morris, Greg Brooks, Malik Chavis
FAYETTEVILLE — Right before Christmas, Arkansas football coach Chad Morris and his staff got to put one more present under the tree.
It was certainly a great, late holiday get for what looks like a banner secondary haul.
New Orleans, La., Edna Karr four-star cornerback Devin Bush (6-0, 187) put pen to paper late Friday afternoon on his national letter of intent to become the 21st signee of the Razorbacks' 2019 class.
Not only did Arkansas get a fast, physical shutdown cornerback, but one who brings a winning mindset to the table from a program that has won three straight Class 4A state titles, is riding a 27-game winning streak and has won 43 of its last 44 games.
Bush committed to Arkansas on Nov. 11 after his official visit to Fayetteville, but decided not to sign Wednesday on the opening day of the three-day early signing period.
It had been speculated that he might wait to sign until the Feb. 6 national signing date in hopes of getting an offer from LSU, who he has rooted for growing up.
But Arkansas coaches and Razorbacks linebacker De'Jon "Scoota" Harris, a good friend of Bush's, stayed after the prospect and reminded him who had spent the most time on him and showed him the most love.
They also sold him on being a part of the rebirth of Arkansas football with what is the highest-ranked class in the modern era.
All that resulted in Bush inking Friday, joining a Razorbacks class that is ranked 12th nationally by Rivals, 19th by ESPN and 20th by 24/7.
He is one of 13 four-star prospects out of the 27 signed or committed to Arkansas and one of 15 overall in the class according to Rivals, ESPN and 24/7.
Bush received offers from Arkansas, Oklahoma, Georgia, Clemson, Notre Dame, Auburn, Florida, Oregon and numerous others during his recruiting process, which speaks to the legitimacy of his talent.
His mentality is one I am sure that Razorbacks fans will like.
"I think I am a great team player," Bush said in a recent interview. "I play fast. When the ball is in the air, I attack. That's how I make all my plays."
He joins a defensive backs signing group of fellow four-star prospect Greg Brooks of West Jefferson, La., and three-star Malik Chavis of Rison. The Razorbacks also have a commitment from four-star Adonis Otey of Murfreesboro, Tenn., Blackman.
Bush helped lead Edna Karr to its third straight Class 4A title on Dec. 8 in a game in which the Cougars (15-0) rallied from 12 points down to beat Warren Easton 28-20.
It was somewhat of a lonely senior season for Bush, who had two interceptions in his season opener and didn't get many passes thrown his way after that.
Still, he ended with seven interceptions in 15 games, taking four back for scores while making plays any way he could.
"When they won't throw your way, it does get kind of boring, so you just have to go make plays," Bush said. "That is what I did."
Discussion
Have a comment on this story? Join the discussion or start a new one on the Forums.