The Recruiting Guy:
6-7 offensive lineman on Hogs' radar for 2020
Published: Sunday, December 23, 2018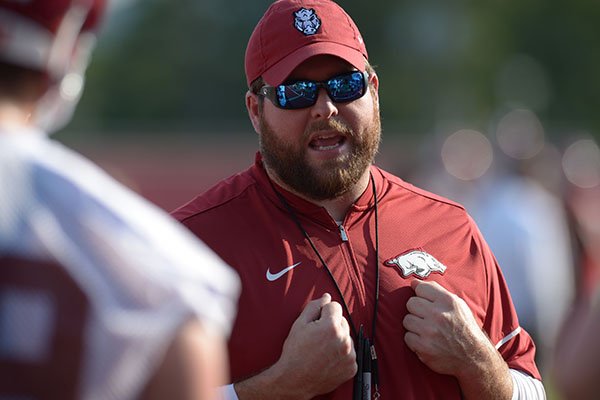 (
Andy Shupe
)
Arkansas offensive line coach Dustin Fry speaks to his players Friday, Aug. 3, 2018, during practice at the university practice field on campus in Fayetteville.
The University of Arkansas has wrapped up the recruitment of offensive linemen in the 2019 class and will now turn their attention to the 2020 class.
The Hogs recently extended a scholarship offer to junior lineman Brady Ward, who's an admirer of a former Razorback.
"I have watched Dan Skipper for years with my dad," Ward said. "When you're over 6-7 with shoes off, there aren't many guys to look up to."
Ward, 6-7, 310 pounds, of St. Paul's Episcopal in Mobile, Ala., also has offers from Auburn, LSU, Florida, Tennessee, Oregon, North Carolina, Ole Miss and numerous others.
Greater, the movie about the life of the late Brandon Burlsworth, a former Arkansas All-America offensive lineman, is one of his favorite movies.
"I liked Brandon's work ethic and determination," Ward said. "I like the way he was off the field and flipped a switch on it. But I loved how he worked. That's me. When you are long like me ... it takes some time to grow into a body and be coordinated. Brandon obviously matured late and I did the same. His best ball was in college and I fell my best ball is ahead of me."
A visit to Fayetteville is in the works.
"The plan is the spring," Ward said.
Ward also throws the shot put and discus.
"I do a lot of offseason yoga this time of year to work on bending and spend a lot of time working on my strength and speed," he said. "It helps me bend and my flexibility. I was around 6-2 at 12 so I had to work on my ankle, knee and hip bend. Our team does it in the summer and it's really big in colleges and pros now."
Arkansas also incorporates yoga into the strength and conditioning program.
"Most of the ones recruiting me do it," Ward said. "I know the [New Orleans] Saints and most pros do it now. I just know coaches say I bend well for a big man and I contribute it to yoga."
Dream decision
Dreams came true for Warren defensive lineman Marcus Miller on Wednesday, the first day of the early signing period that ended Friday.
He signed with the Hogs over scholarship offers from Tennessee, Missouri and Memphis.
"I always had a dream to play college football and today, I made the best decision of my life," said Miller on Wednesday.
Miller, 6-4, 300 pounds, recorded 78 tackles, 8 sacks, 12 quarterback hurries, 6 pass breakups and an interception as a junior and followed that up with 72 tackles, 17 tackles for loss, 7 sacks, 9 quarterback hurries, 1 pass breakup, 1 forced fumble and 1 recovered fumble as a senior.
He'll be joined in Fayetteville by Warren teammate and highly recruited receiver Treylon Burks, who plans to sign with the Hogs on Feb. 6. Miller echoes what many of the other 20 signees and 7 commitments say about changing the culture of Arkansas.
"I've always liked the Razorbacks, and I've been working hard to play for the Razorbacks," Miller said. "I think we have a good group and I think we're going to change the program around."
E-mail Richard Davenport at rdavenport@arkansasonline.com
Sports on 12/23/2018
Discussion
Have a comment on this story? Join the discussion or start a new one on the Forums.