Nolan's name belongs on the court
Published: Thursday, February 15, 2018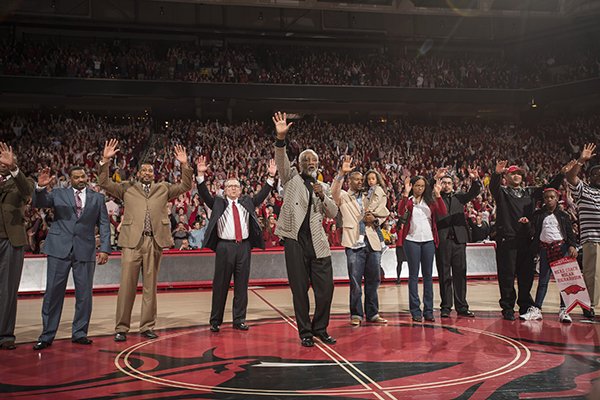 (
Anthony Reyes
)
Former Arkansas head coach Nolan Richardson calls the hogs during halftime after receiving a replica of his banner Tuesday, Feb. 24, 2015, at Bud Walton Arena in Fayetteville.
Next year will be the 25th anniversary of Arkansas' one and only college basketball national championship.
This seems like a perfect time to honor former Arkansas coach Nolan Richardson, who assembled and coached that squad to the pinnacle of the sport, by putting his name on the court at Bud Walton Arena.
Richardson not only won the national title in 1994, but was once again in the title game the following year. He also took the Razorbacks to three Final Fours, finished 78-15 at Bud Walton and 205-37 in home games, 389-169 overall in 17 seasons at Arkansas and had a 508-206 coaching record overall.
His Arkansas teams averaged 27 wins per season in the 1990s. They won at least 20 games in 12 years, won 30 or more in four seasons and went to the postseason in 15 of his 17 years.
I am 100 percent in favor of this idea. It's not only something whose time has come but long overdue.
To me, it's not only about his success on the court, but the difference he made off of it, including his charity works and in changing our state.
I was on the bench with him when racial insults were hurled at him in those first few years because his team wasn't winning. A couple of times I was ready to go up in the stands, only to be told to calm down and let idiots be idiots.
While complete racial harmony remains just a dream, I have no doubt that his tenure helped that issue move down the line.
Richardson's name popped back into the news this week when the UA's Associated Student Government submitted a recommendation to the school's athletic department in favor of naming the floor Nolan Richardson Court.
One would hope the administration will take the basketball and run with it and honor the now 76-year-old Richardson.
Richardson was a polarizing figure during his time and naming the court after him is not a consensus idea as evidenced by a few callers to sports talk radio shows this week.
Some still have issues with Richardson suing the school, the Board of Trustees and the Razorback Foundation for racial bias. The $8 million suit was filed under provisions of the Civil Rights Act of 1964.
The suit cited "lingering racial discrimination in Arkansas" and was one that centered on his perceived treatment by UA president B. Alan Sugg, chancellor John White and athletic director Frank Broyles.
U.S. District Judge William R. Wilson dismissed the case and said it was a matter of "wounded pride -- wounded pride in a man who started way behind, but climbed to the top by hard work, savvy, and most of all, perseverance."
While the late Broyles and Richardson had a volatile relationship, it's important to note that the two men made peace.
In fact, Broyles made clear the admiration he had for Richardson.
"While Nolan was here, he raised basketball support to new levels," Broyles said in a statement to ESPN.com in 2015. "His very presence helped other coaches recruit. Nolan reinvigorated college basketball and changed the game forever. He brought a national championship to our program. To this day, that is something I am extremely proud of and so is the rest of the state.
"My family and I have the utmost respect for Nolan and his wife, Rose. I have continued to be proud of his accomplishments and believe his impact on the game of basketball will stand the test of time. The entire state is happy that he chose Northwest Arkansas to be his home."
Some believe the court should be named for former Razorback head coach Eddie Sutton, but he never coached a game for Arkansas in the arena and has Oklahoma State's court named for him.
While in college I worked on the basketball staffs of both Sutton and Richardson at the University of Arkansas. Both were second father figures for me and helped mold me into the man I am.
Both are Hall of Fame coaches, Richardson in the Basketball Hall of Fame and Sutton in the College Basketball Hall of Fame, and are really the only two coaches who should be considered for the honor.
Both are also great men, who did a lot for the state of Arkansas other than just bring it happiness through winning basketball games.
Neither one is perfect, flawed like the rest of us.
Sutton (Oklahoma State), John Wooden (UCLA), Norm Stewart (Missouri), Mike Krzyzewski (Duke), Gary Williams (Maryland) and Dick Vitale (Detroit) are a few of the coaches who have had courts named after them.
It's time for Nolan Richardson to join those ranks.
Sports on 02/15/2018
Discussion
Have a comment on this story? Join the discussion or start a new one on the Forums.