Oklahoma prep DE Collin Clay has Razorbacks on top
Published: Monday, February 26, 2018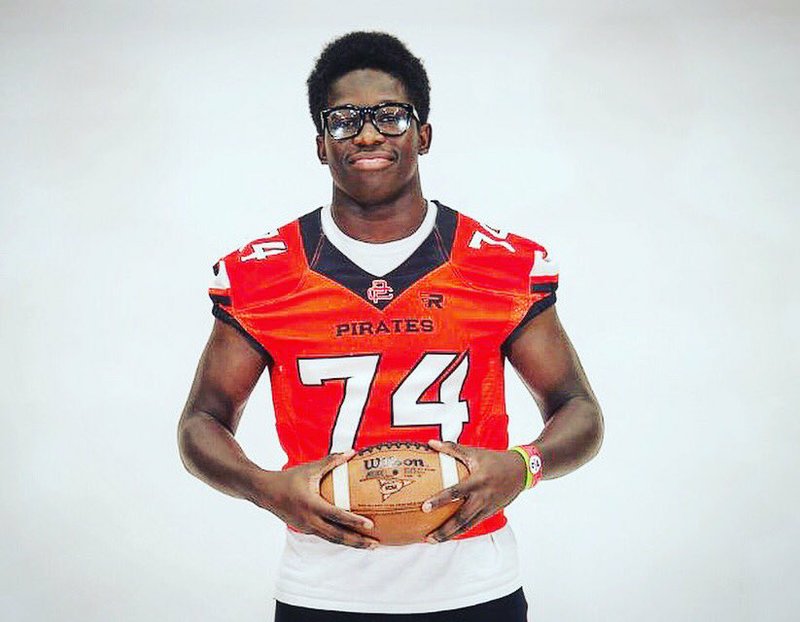 FAYETTEVILLE — Putnam City, Okla., junior defensive end Collin Clay has always looked up this dad figuratively and literally, but so do most people - he's 6-foot-10.
While the younger Clay (6-5, 230) may not become as tall as his dad, he certainly has a frame that, according to doctors, is likely to fill out and up as he gets older.
"I will probably grow a couple more inches, but we'll see from there," noted Clay, who was 5-9 at the end of his freshman year. "(They) say I could be his height by the time I graduate high school."
Clay - 56 tackles, three sacks and two pass break ups as a junior - and his dad were in Fayetteville on Saturday to check out the Razorback program during a prospect day.
It was the first of three straight Saturdays that new head coach Chad Morris and his staff will be hosting underclassmen on campus.
"It was a great experience today with the new coaching staff," Clay said. "It was good coming up here meeting with them. … Just touring around the school. Getting to know the coaches and getting to put the jerseys on and stuff."
Clay, recruited by Morris and his staff when they were at SMU, has offers from Arkansas, Georgia, Florida, North Carolina, Michigan, Oklahoma State, Houston, Minnesota, Duke, Colorado, Iowa State and Arkansas State.
He announced Arkansas, who offered him on Jan. 8, as his leader at conclusion of Saturday's visit, which was his second to Fayetteville after attending last season's Razorback home game with TCU.
"They're at the top of my schools," Clay said. "I haven't released any of them yet, but it should be coming out soon. They are most definitely on top."
Clay, who played opposite Oklahoma signee Ronald Tatum III last season, is not in a hurry to make a decision.
"I"m just taking my time with the process with my family," he said. "We will keep praying about it. Whenever that time comes we'll be ready."
Clay finished with 40 tackles as a sophomore and believes getting to the quarterback is one of the best things he does on the field.
"I know my pass rushing ability is one of my attributes," Clay said. "The main thing I want to work on this year is just getting bigger, stronger and faster."
He has developed a good relationship with Arkansas tight ends coach Barry Lunney Jr.
"We talk to each other every day just texting and on the phone every now and then," Clay said. "We talk every day though. That's pretty good."
Clay is impressed with what Arkansas' defensive staff brings to the game as well.
"Just meeting with them today we had texted each other, but coming to meet them today was even better," Clay said.
Discussion
Have a comment on this story? Join the discussion or start a new one on the Forums.