Freshman pitchers Bolden, Vermillion handcuff Dayton
Published: Wednesday, February 28, 2018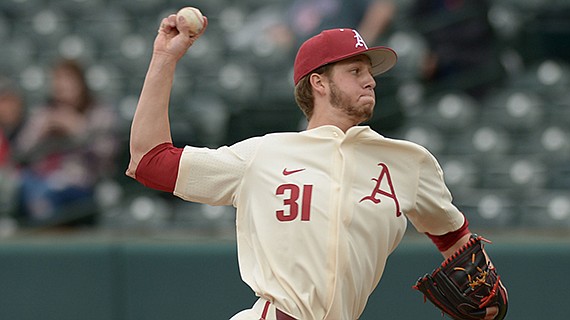 (
Andy Shupe
)
Caleb Bolden deals during an 18-1 victory over Dayton in Fayetteville, February 28, 2018.
FAYETTEVILLE — If you want to make a run to the College World Series you need to have plenty of arms and it looks like No. 6 Arkansas has plenty of freshmen with a chance to help get the Razorbacks to Omaha.
True freshmen pitchers Caleb Bolden and Zebulon Vermillion combined for eight scoreless frames, nine strikeouts and no walks as Arkansas' offense exploded for 20 hits while downing Dayton 18-1 on Wednesday afternoon before 1,358 fans at Baum Stadium.
Bolden (1-0), who was drafted by Tampa Bay in the 15th round of the 2017 Major League Draft, started and went six innings while allowing seven hits, fanning six and not issuing a free pass.
"He came out and threw a lot of strikes, pretty much living at 90-92 with a pretty good slider," Arkansas coach Dave Van Horn said. "When he kept the ball around the knees he had a lot of success. He got a couple pitches up and they hit them.
"They maybe had one threat going, but really when we put together that great inning there, with two outs in the second, we were definitely in control of the game. And he just kept going out there and doing his job."
Bolden, who committed and signed with the Razorbacks after the draft, had pitched three innings earlier this season in relief, but was taking the mound for the first pitch of a game for the first time in his collegiate career.
"With my first career start my adrenaline was flowing," Bolden said. "We came in here and watched some video, found some weaknesses and then I just pounded those weaknesses."
Arkansas (6-2) faced 10 Dayton pitchers in the opener of a two-game series and scored eight runs with two outs in the second inning - something that allowed Bolden (6-1, 170) to relax.
"Run support is huge," Bolden said. "It is a big weight off my shoulder. I got up to get loose and had to sit back down because it was a long inning, but I am very thankful for long innings and run support."
Freshman Casey Martin led the offensive attack with two homers and six RBIs, including a bomb in the second.
Heston Kjerstad - yet another freshman who is now batting a sizzling .536 this season - and Evan Lee both had three hits while Hunter Wilson and Dominic Fletcher added a pair with all contributing in the second-inning onslaught.
That allowed Bolden just to focus on making pitches.
"Just pounding the white of the strike zone," Bolden said. "I would say that my fastball and slider were my main ones working today. I would mix in a change up every now and then to show them that I had it."
Vermillion (6-4, 208) a right-hander from Shawnee Mission, Kan., East., entered in the eighth inning and fanned three, allowed three hits, no walks and one unearned run that came with two outs in the top of the ninth.
Bolden and Vermillion are two of six true freshmen pitchers that have taken the mound for the Razorbacks this season.
The others are Jackson Rutledge (6-8, 260), Hunter Milligan (6-4, 205) - the only left-hander in the bunch - Kole Ramage (6-1, 185) and Bryce Bonnin (6-1, 190), who was 26th round pick of the Chicago Cubs.
"We have a really good group that came in this year," Bolden said, "a lot of talented arms and that always helps us because the more talented arms, the more competition it is and it just pushes us to work harder."
Milligan, a former Greenbrier standout who had an injury-prone senior season that kept him from being a high-round draft choice, will get the ball on Thursday at 3 p.m. in the finale against the Flyers.
"Hunter's a guy that has only thrown one time for us," Van Horn said. "…He's got a good arm. He had some arm problems as a senior. Had some surgery in the summer to clean some things up in his shoulder, and he's been throwing the ball pretty good.
"He'll obviously be on a limited number of pitches, and when I say limited, it might be a couple innings worth. We'll see how it goes, and then we'll just kind of go from there."
Discussion
Have a comment on this story? Join the discussion or start a new one on the Forums.