Arkansas looks ready to attend Big Dance
Published: Wednesday, February 28, 2018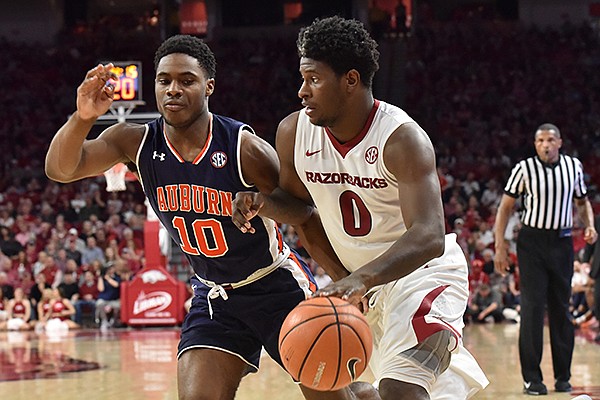 (
J.T. Wampler
)
Arkansas beat Auburn 91-82 Tuesday Feb. 27, 2018 at Bud Walton Arena in Fayetteville.
FAYETTEVILLE — It was just a few short weeks ago that Arkansas fans were worrying about their team possibly not making the NCAA Tournament.
But after Arkansas' 91-82 home win over No. 14 Auburn made it six wins in seven games, there doesn't seem to be any doubt about the Big Dance from either Razorback head coach Mike Anderson or Tigers head coach Bruce Pearl.
"It was a great environment tonight and Arkansas played really well," Pearl said. "They shot it great. They have got so many weapons.
"I was telling some people today that they are a team that with seniors that are experienced and that they could be a team that really makes a run in the tournament having got there last year, having advanced and had North Carolina.
"(With) that group back, they have got to find a way to make their free throws and get that problem solved, but if they do that, they are playing as well as anybody in the league right now."
Auburn (24-6, 12-5) missed an opportunity to clinch at a share of SEC regular season championship and is now tied with Tennessee in first place.
The Tigers have lost four of their last eight games after opening the season 20-2, but could still clinch the SEC Tournament's top seed with a home win over South Carolina on Saturday.
"These kids have been amazing, absolutely amazing," Pearl said. "To look at that group right there and know that team is tied for first place in the league when you look at all the teams in the league. I mean think about the whole league. These kids have continued to find a way all year long.
"Even at times in this game tonight when we made a couple of runs to close the gap, you weren't surprised because that is what we have been doing all year long. But Arkansas was able to withstand those runs. I have got confidence we can pull this thing off because we have done it all year long."
Arkansas (21-9, 10-7) is now in a third-place tie with Florida in the SEC with Kentucky a half-game back pending its home game with Ole Miss on Wednesday.
A road win at Missouri (19-11, 9-8) on Saturday would give Arkansas one of the four coveted double-byes in next week's SEC Tournament in St. Louis and also helped the seeding in the NCAA Tournament.
"I always say that if we do what we are supposed to do then we will be where we are supposed to be," Anderson said. "You hear me say that every year. It's a given that it is our goal, to win a championship every year. To do that, you have to be in the tournament.
"In terms of where we are, to me we have to finish this season out and we will see what takes place after that. The only automatic bid comes from the SEC Tournament and that will take place next week. A lot of questions will be answered in the last game.
"This team is playing some good basketball at the right time. That is one of the things that we do is build our teams for this time of year. It is good to see our guys come out and perform."
Freshman center Daniel Gafford had 21 points, 10 rebounds and a career high-tying 7 blocks.
"He was just a monster in there," Pearl said. "If you play behind him, he can score. If you front him, they can throw over the top. He did a really good job tonight and we were in terrific foul trouble with down to three front line guys…We were just really, really small."
Arkansas senior guards Jaylen Barford (20 points, 10 rebounds) and Daryl Macon (16 points, 6 assists) both topped 1,000 career points in their final home game.
"I think that would be the deal for anybody's senior night," Macon said. "I wouldn't want them to come in here and win a conference championship and cut down our nets. I think we all had it in our minds that we were going to come out here and give it our all for our last time."
Barford has 1,003 career points (one more than Macon) and said losing earlier this season to Auburn spurred his team on.
"I think the game was kind of personal because they beat us the first time we played them," Barford said. "They had to come here and it was our senior night as well, so we just came out dialed in and ready to play.
"… The thousand point thing, it just came to us. Our teammates knew what we had to get. We were just making shots, hitting open shots and just making plays."
When all three are going, Pearl said it is hard to stop the Razorbacks.
"Really tough, really tough," Pearl said. "I mean they all complement each other so well and they can all score in multiple ways and they play together. It's good and Mike does a great job moving the pieces…They play unselfishly, they share it. It is good.
"They are playing really well at the right time of the year and they are deep. They have got enough size, got enough shooting, they have all the pieces."
It was a vast difference from Auburn's 88-77 home win over Arkansas back on Jan. 6.
"They were better tonight," Pearl said. "They were much more aggressive and we couldn't do anything to disrupt them defensively. They did whatever they wanted to do on the offensive end."
Discussion
Have a comment on this story? Join the discussion or start a new one on the Forums.