Hog hunting continues for Morris
Published: Thursday, January 4, 2018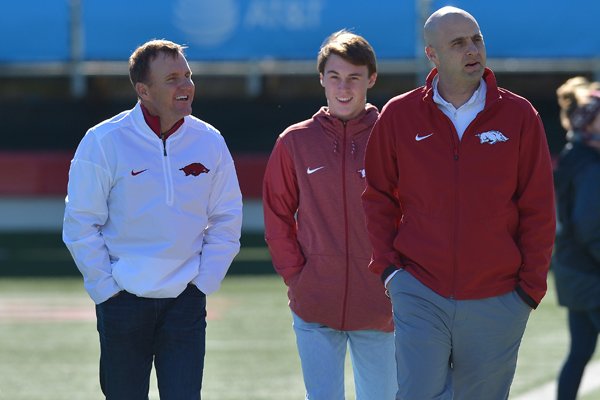 ( Jimmy Jones )
Arkansas head coach Chad Morris, left, walks with assistant coach Barry Lunney Jr., right, and son Chandler Morris, behind, prior to the Class 4A state championship game between Warren and Arkadelphia on Saturday, Dec. 9, 2017, in Little Rock.
With Arkansas' football program expected to fill out its coaching staff with some defensive additions in the next few days, it seems a good time to look back at what the early signing period yielded and what still needs to be added.
New coach Chad Morris signed eight players in the first NCAA early signing period in December -- five on defense and three on offense.
Early enrollee linebacker Bumper Pool and cornerback Ladarrius Bishop joined defensive linemen Isaiah Nichols, Billy Ferrell and Nick Fulwider in becoming Razorbacks.
Arkansas added quarterback Connor Noland, early enrollee wide receiver Michael Woods and offensive lineman Silas Robinson on the offensive side of the ball.
"I like this mix of guys -- very competitive, some speed, some size," Morris said. "It's a good group."
Morris plans to sign at least eight more players in February, and expects to spread them evenly between offense and defense.
"I think we will have a very good chance to add some great players the second go-around," Morris said. "There were several kids who decided to wait."
That includes current Arkansas commits Noah Gatlin (offensive lineman) and John Mincey (defensive lineman).
Morris plans to look more for the best fit than how many stars are beside the name.
"We don't star recruit," Morris said. "A guy may be a 2-star or a 5-star, but does he fit? If he fits, that's what we want."
Morris will also be looking for multi-sport players like Noland -- a baseball standout who will play for the Razorbacks -- and Pool, who played four sports in high school.
"I want players that play multiple sports," Morris said. "I feel like that does a couple things: number one, it develops an overall, well-rounded skill set, and two, it shows me that this young man can be coached in different ways. Every coach that he deals with in a different sport coaches him a little bit different. If I have players that are dead equal and one plays one sport or the others plays two sports, I'm going to go after the two-sport first."
The Razorbacks are now in on College of the Canyons defensive end Dorain Gerald (6-foot-3, 265 pounds), a South Carolina native and the nation's top junior college defensive end, according to 24/7's composite rankings.
Morris feels like he can awaken Arkansas' football program much like he helped Dabo Swinney at Clemson as the offensive coordinator.
"This is a sleeping giant," Morris said of the Razorbacks. "I firmly believe with the right fit and the right combination and the momentum and the energy that we're going to bring, that we're going to wake it up."
Morris doesn't plan to use all of his available scholarships.
"If you have attrition, there may be someone out there at the end of this thing that fits us," Morris said.
Sports on 01/04/2018
Discussion
Have a comment on this story? Join the discussion or start a new one on the Forums.