Arkansas grid signees intrigued about yoga addition to conditioning
Published: Thursday, January 11, 2018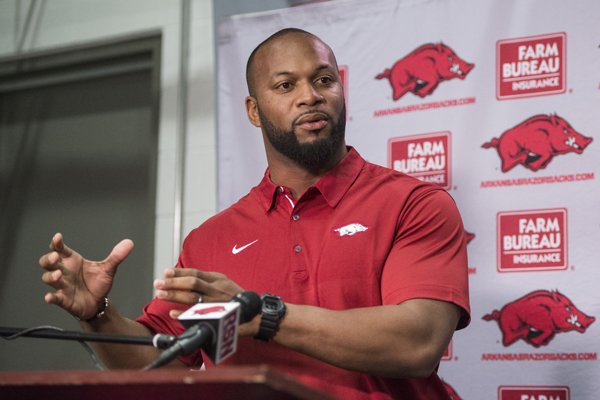 (
Ben Goff
)
Arkansas strength and conditioning coach Trumain Carroll speaks during a news conference Wednesday, Jan. 10, 2018, in Fayetteville.
FAYETTEVILLE — Arkansas defensive end signee Isaiah Nichols of Springdale has never tried yoga, but he's about to start.
New Razorback strength and conditioning coach Trumain Carroll said Wednesday that yoga is part of his program.
"Oh, man, that's first of I have heard of that, but hey, being flexible in football is a huge part of being a good athlete," Nichols said. "I have heard a lot about that helping NFL players so if it works for other programs, why wouldn't we try it and it work for us?
"It's just another thing I'm excited about. I'm excited about every thing and I am ready to get going. I'm ready to see all we are doing and ready to get this show on the road."
Nichols (6-3, 265 pounds) joins Lucas, Texas, Lovejoy linebacker Bumper Pool (6-2, 220) and Magnolia, Texas, wide receiver Michael Woods (6-1, 188) as signees who will enroll early at Arkansas.
"I move to campus this Friday morning," Nichols said. "I only have got a few days left in Springdale, but I am excited to how the off-season goes. I know it is not going to be easy, but I am ready to push my body to its limits, see what I can do and just become the best athlete, the best football player and the best man that I can become."
Arkansas quarterback signee Connor Noland (6-3, 205), who will also play baseball for the Razorbacks, has been taking yoga for awhile to help him with both sports.
"I've done yoga before and it's definitely tough," Noland said. "But I think it will be a good addition for Arkansas football. Obviously it is different than other techniques, but it is used in college football and pro football with great results.
"I think flexibility is big key for any athlete with the durability of muscles and I think it is a great thing."
Arkansas defensive end Nick Fulwider (6-7, 250) is thrilled about the yoga.
"I had a chance to meet with Coach Tru on my official visit and he is going to get me right," Fulwider said. "Love that there will be a certified yoga instructor. It will help me with my flexibility, which happens to be an area of development for me."
Discussion
Have a comment on this story? Join the discussion or start a new one on the Forums.