Signees comment on new Arkansas coaching staff
Published: Thursday, January 11, 2018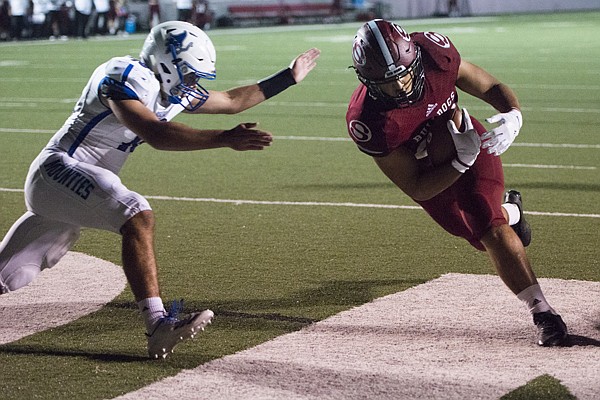 (
Charlie Kaijo
)
Springdale lineman Isaiah Nichols scores a touchdown during a game against Rogers on Friday, Nov. 3, 2017, in Springdale.
FAYETTEVILLE — When Arkansas recruiters let defensive end Nick Fulwider in on a potential hire last month, the Georgia native needed no research.
Fulwider was told about John Chavis' aggressive, attacking style, but his family had known about Chavis long before he made his name coordinating some of college football's best defenses at Tennessee between 1995-2008.
"My granddad has been a fan of Coach Chavis since back when he coached at Alabama State and Alabama A&M, so when Coach (Chad) Morris told me about the (hire), it solidified my decision," Fulwider said, referencing Chavis' time at the two Alabama schools between 1980-88.
Springdale defensive end Isaiah Nichols also gave the Chavis hire a thumbs up. Nichols, who graduated high school a semester early, will go through spring practice with Chavis and the Razorbacks this year.
"I think he is a great man for the job," Nichols said. "Coach (Chad) Morris said he was going to bring in the best and I think he has. I've seen the list of accomplishments which he has had at different schools. You know if he can bring that over to the University, it's going to be great and I think he can."
But Chavis wasn't Morris' only defensive hire to draw praise from signees. Fulwider said he was excited to see John Scott Jr. on Morris' first staff.
Scott had been fired shortly after Morris' arrival in Fayetteville last month, but was rehired to complete the defensive staff earlier this week.
"Coach Scott never game up on me when I was committed to UNC," noted Fulwider, who flipped from North Carolina to Arkansas right before signing in December. "He is an outstanding recruiter and knows me. He has researched my game play and I know he will get me ready for the next level and beyond.
"I am very excited about the defensive coaching staff."
On offense, quarterback signee Connor Noland said he has already met with offensive coordinator Joe Craddock and spoken with him "several times."
"I think it is a great hire," Noland said. "He has a lot of energy and brings a lot of passion. I like that part of it and the fact that their offense is pretty similar to what we run at Greenwood.
"They like to run tempo and spread things out, get it all over the field, set up the run plays."
Discussion
Have a comment on this story? Join the discussion or start a new one on the Forums.