Burks high on priority list for Hogs
Published: Thursday, January 18, 2018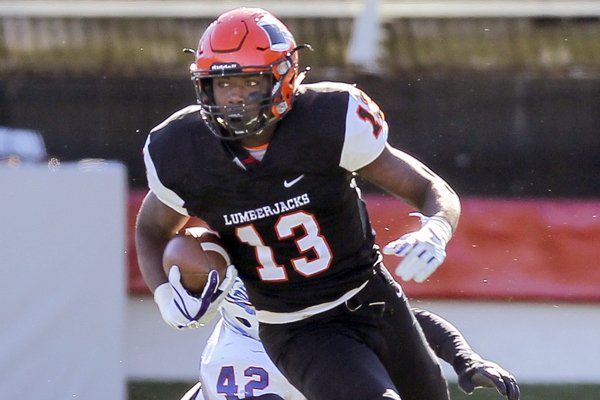 (
Benjamin Krain
)
Warren receiver Treylon Burks runs past Arkadelphia defender Demarco Britton during the Class 4A state championship game on Saturday, Dec. 9, 2017, in Little Rock.
While the new Arkansas football coaches now have less than a month to flesh out the 2018 recruiting class, Chad Morris and his staff have also wisely jumped on the state's 2019 in-state prospects.
The staff has already been to see the Fab Five of Warren wide receiver Treylon Burks (6-foot-3, 205 pounds), Pulaski Academy tight end Hudson Henry (6-5, 225), Jonesboro offensive lineman Darius Thomas (6-6, 310), Bentonville West wide receiver Jadon Jackson (6-2, 175) and Camden Fairview offensive lineman Stacey Wilkins (6-7, 280), the latest in-state prospect to get an Arkansas offer.
Burks (43rd) and Henry (48th) are considered two of ESPN's top 50 players nationally while Thomas comes in at 167th on the same list.
"We need to make sure the University of Arkansas owns this state," Morris said recently on ESPNU Radio on SiriusXM. "If there are five-to-seven, however many, SEC players that come out of the state of Arkansas, we want to keep them inside the borders of the state of Arkansas."
The Razorbacks will have to battle a horde of invaders looking to take those five -- and maybe more -- away from the state to play their college football.
Michigan and LSU are the latest two offers for Burks, recently named the state's top Class 4A player after a standout junior season in leading the Lumberjacks to the 4A state title game in December.
"Michigan offered Monday, LSU last week and obviously he has had the offers from Arkansas, Auburn, Oregon, Mississippi State, Ole Miss, South Carolina and on and on and on," Warren football coach Bo Hembree said.
Burks doesn't plan to make his college decision until after his senior season. He caught 45 passes for 1,090 yards with 12 touchdowns as a junior.
He had 116 yards rushing, 178 receiving and scored four touchdowns -- two receiving and two rushing -- in Warren's 28-27 loss to Arkadelphia in the Class 4A state title game with newly hired Morris and assistant Barry Lunney Jr., looking on.
He also had 16 tackles and an interception in the title game.
"He did everything for us, played wide receiver, played quarterback, returned punts, returned kickoffs," Hembree said. "I couldn't even begin to tell you his importance to us."
The Lumberjacks might have been able to win the game, but after Burks' scrambled to the 8 with four seconds left, a Warren student ran onto the field and his team was assessed a 15-yard unsportsmanlike penalty.
Instead of a possible short field goal to win its second straight state title, Warren ended up throwing an interception in the end zone to Dillon Scott. Burks was tackled by Scott to save a touchdown on the previous play.
"It was definitely the strangest ending to a game that I ever saw," Hembree said. "I felt so bad for the kids, who had played their hearts out."
Burks was offered during March of his freshman year by former Arkansas coach Bret Bielema.
The new Arkansas staff was quick to find their way to Warren.
"They were here that first week," Hembree said. "They made it very clear how important he is to them."
Sports on 01/18/2018
Discussion
Have a comment on this story? Join the discussion or start a new one on the Forums.