Big numbers generate interest in Waldron's Brown
Published: Wednesday, January 24, 2018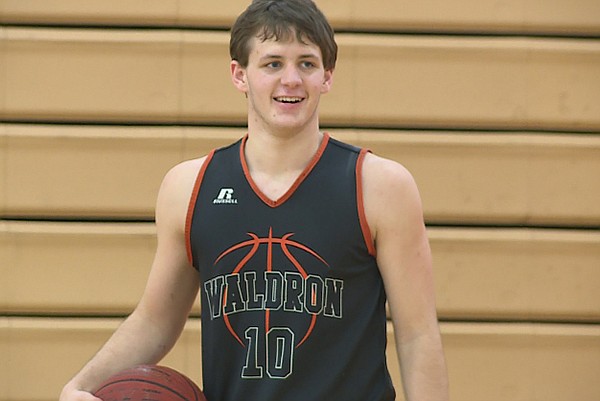 Waldron sophomore guard Payton Brown scored 56 points during a game against Subiaco Academy.
One of the state's best-kept secrets is slowly getting out.
Waldron sophomore point guard Payton Brown (6-4, 185 pounds) is averaging 30.8 points, 9.2 rebounds, 4.6 assists and 2.1 steals per game.
It has been a great sight for Bulldogs head coach Joshua Brown, who is not related to his star.
"When I came to Waldron four years ago, he was just a seventh grader, but you could already tell that there was just something special about him," Joshua Brown said. "He had the skill, the basketball build and he has really worked hard on his game.
"As a freshman last year on our junior high team, he averaged over 30 points and they went 22-2 so we were looking forward to getting him up with us and knew he would be a key to any success we had this year. That has certainly been the case."
Brown will attend Saturday's game between Arkansas and Oklahoma State after receiving an invitation from the Razorbacks' staff.
He is coming off a 40-point game against Ozark on Tuesday - the fourth time he has scored at least 40 this season. His season-high was 56 points, scored Jan. 12 in Waldron's win over Subiaco Academy.
In that game, Brown made 13 of 26 field goal attempts, including 8 of 15 shots from 3-point range. He also made 23 of 26 free throws.
"He got his first basket off a set play and then gets one driving while creating contact and finishing," Joshua Brown said. "He does that twice in a row and scores our first eight points and just sees the ball going through the net.
"Late in the game, I had no clue that he has that many, but he was 13-of-14 from the free throw line in the last four minutes of the game. He just did everything in that game and we needed all of it from him.
"He shoots the ball really well, has a quick release, he can get to the rim and finish, he gets to the free throw line and shoots 88 or 89 percent. He runs the point. He has kind of done it all for us. He has scored a lot of points for us."
Brown's father, Jason, holds Waldron's single-game record with 58 points during a 1993 overtime game against Paris, but the younger Brown still has two-plus seasons to eclipse that for the Bulldogs, who play in Class 4A.
"I wouldn't bet against him doing that," Joshua Brown said.
Brown, who has a 4.0 grade point average and has already posted a 23 on his ACT, is starting to get recruiting attention from Arkansas and other colleges. He also is drawing the attention of AAU coaches.
"He is starting to get a lot of attention, but the (college) coaches can't talk to him until June 1," Joshua Brown said. "I know it is going to keep coming if he keeps up how he is playing.
"There are a lot of AAU coaches trying to get him to play for them, but I know he is committed to playing for Coach Marty Barnes for Team Cooper this summer."
Discussion
Have a comment on this story? Join the discussion or start a new one on the Forums.