Waldron's Payton Brown revels in Razorback rally
Published: Sunday, January 28, 2018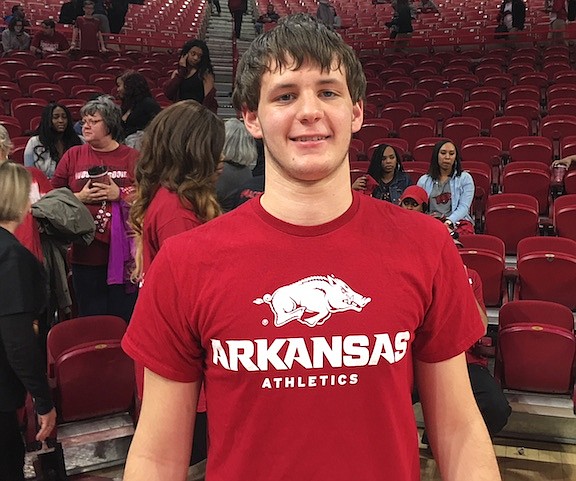 FAYETTEVILLE — Waldron sophomore Payton Brown has scored almost as many points in a game this season as either team did Saturday in Arkansas' 66-65 win over Oklahoma State in Bud Walton Arena.
But Brown (6-4, 185), who had 56 points in a game earlier this season, was in attendance on an unofficial visit and enjoyed every minute of the the competitive contest.
"It was amazing to be here and being able to see it and enjoy it," Brown said. "I have been to two or three others, but none were like this one. I have grown up a Razorback fan so it was special."
The Razorbacks (15-6) trailed by 12 points in the second half before rallying behind Daryl Macon's 22 points to earn a win in the Big 12/SEC Challenge, which the SEC won 6-4.
"It was pretty exciting watching them," Brown said. "Macon came in and hit some big threes for us and led us to a victory. It was fun to be a part of a great crowd and a big victory.
"I love watching them play, I love their program," he said. "They start out a little slow, but they always pick it up and come back and win it here all the time."
Brown is averaging over 31 points per game this season while scoring at all three levels for the Bulldogs.
"My teammates just find me when I'm open," Brown said. "I can create off the dribble, too. Just a mixture of both, but I give all the credit to my teammates for finding me.
"I have just practiced my game hard over the years and it has just come easy to me when I got out there on the court and started playing everybody."
Waldron is 10-10 this season after downing Paris 60-55 on Thursday behind Brown's 40-point outburst.
"We have to get better on defense," Brown said. "We are scoring a lot of points but also giving up like 60 or 70 points per game."
While other AAU programs have tried to get him to commit to their program for next spring and summer, Brown plans to stay with Team Cooper and head coach Marty Barnes, a former highly successful high school coach at Russellville and Rogers.
"I enjoy being coached by him," Brown said. "He leads me very well and pushes me. Last year was my first year to play with him and I really liked it. We told him we would come back this year and stay with him."
While Brown is a deadly shooter, he knows he must improve his game to play at the elite level in college.
"My ball handling and my defensive skills are the two biggest things I have to work on," Brown said.
His 56 points in regulation against Subiaco Academy earlier this month were two shy of the school record of 58, which his dad John scored with the help of overtime back in the day.
"I've got the record, but he's got two more years to get it from me," John Brown said. "I like his chances to take it from me."
The Bulldogs will return to action Tuesday when they host Charleston.
Discussion
Have a comment on this story? Join the discussion or start a new one on the Forums.