Ozark's Burns one of state's top 2020 grid prospects
Published: Monday, July 16, 2018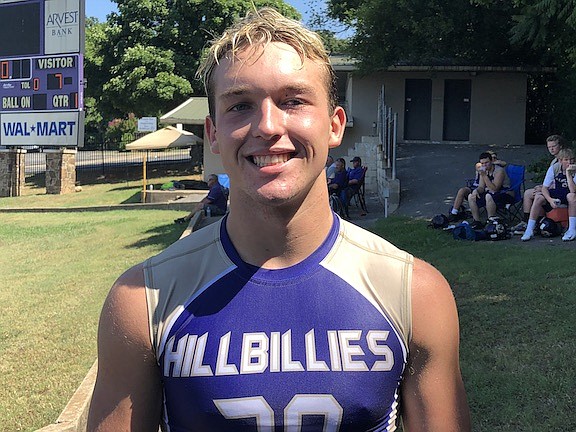 FAYETTEVILLE — One of the state's top junior football prospects was in Fayetteville this past weekend and expects to be back a lot.
Ozark tight end/defensive end Bryant Burns (6-3, 215), who had 748 yards receiving and 11 touchdowns while also netting 74 tackles with four sacks as a sophomore, played in the Southwest Elite Classic 7-on-7 Tournament on the Shiloh Christian, Fayetteville and Springdale high school fields.
That included going up against some of the state's largest schools as well as Oklahoma powers such as Broken Arrow and Owasso.
"For us it is great playing big schools," Burns said. "It is better for us to come to a big tournament and compete with big schools than just go and beat a small school. I would rather come up here and get competition than just win."
That was a sentiment echoed by Ozark head coach Jeremie Burns, who doubles as Bryant's dad.
"In July we can come out here and compete against these bigger schools and get some reps," Coach Burns said. " … It is good experience for them and it will help us down the line."
The younger Burns has an offer from Ouachita Baptist and is getting interest from Arkansas and other schools.
His dad was proud of what he accomplished as a sophomore.
"He had a good sophomore season at both defensive end and tight end for us," Coach Burns said. "I am looking for some big things his junior season and I am just looking for him to keep improving."
The younger Burns had a chance to visit with the staff of new Razorbacks head coach Chad Morris, including tight ends coach and chief in-state recruiter Barry Lunney Jr.
"I like them a lot," Burns said. "Coach Morris seems like a great guy and a great guy to be around. Coach Lunney also seems like a great guy. He's an Arkansas guy, so he is very relatable."
Coach Burns senses the new Razorbacks staff will be successful.
"It is a great staff," Coach Burns said. "I came up a couple of times in the spring and got to listen to them and he came to one of the prospect camps one night and worked at linebacker.
"They are really motivated and trying to do right. I am glad Coach Lunney is still there. He kind of covers us in the River Valley. I have also talked to Coach Morris at the Hot Springs coaching clinic and up here as well and I am looking for big things from the Hogs."
Ozark was 9-3 last season and advanced to the second round of the Class 4A playoffs via a six-game winning streak before losing to eventual state runner-up Warren.
"We are looking forward to some big things," Coach Burns said. "We have a lot of returning guys and feeling we have a chance to be really good."
The Hillbillies return seven starters on both sides of the ball and open the season on Aug. 31 with visiting Booneville.
"We have been lifting weights a lot and getting better at practice, running extra sprints and getting ready for the season," Burns said."I think we are going to be able to compete really well."
Those returnees include one of the state's top quarterbacks in senior Dawson Deitz, who passed for 1,804 yards and 16 touchdowns and rushed for 719 yards and six more scores last season.
"We just have to get bigger, faster and stronger," Burns said. "We have a lot of guys coming back from last year. We have made it to the second round the last couple of years, so I think our experience has gotten better."
Ozark is picked to win the Class 4A-8 conference by Hooten's Arkansas Football and projected 8th overall in the magazine's Class 4A rankings.
The Hillbillies last won a conference title in 2011 and made a state championship game appearance in 2012. Ozark fans are turning out in droves the last two seasons.
"Now that we have been winning, it's loud on a Friday night," Burns said. "It is a lot of fun and I think the best is yet to come."

Discussion
Have a comment on this story? Join the discussion or start a new one on the Forums.