New QBs should get a look with new redshirt rule
Published: Tuesday, July 17, 2018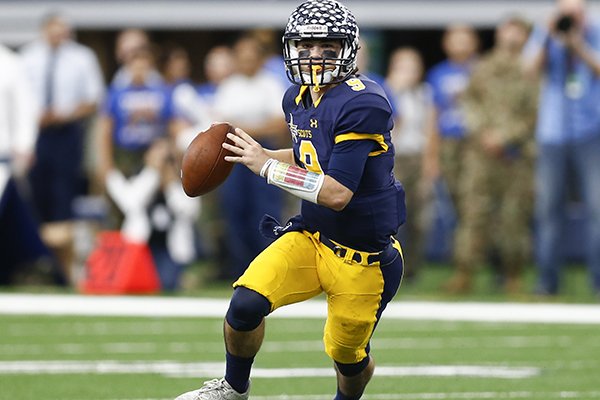 Highland Park quarterback John Stephen Jones (9) looks to pass against Temple during the first half of UIL Class 5A Division I state championship football game, Saturday, Dec. 17, 2016, in Arlington, Texas. (AP Photo/Jim Cowsert)
Expect to see more freshmen playing college football this fall, thanks to a new redshirt rule that allows a player to appear in up to four games without losing a year of eligibility.
Arkansas coach Chad Morris threw his support behind the rule Tuesday at SEC Media Days in Atlanta.
"I love the redshirt (rule)," Morris said. "I think it shows the development of these young men where maybe they are not ready early on, but you continue to keep them in the mix and you keep their interest.
"Sometimes when guys find out they are going to redshirt, they have kind of lost their focus and then all of a sudden an injury happens and late in the year this young man has got to try and reel it back in, and he just can't get there mentally."
Asked specifically about freshman quarterbacks Connor Noland and John Stephen Jones, Morris said the new rule means they will likely be able to get into games to gauge their readiness.
"When you are dealing with Connor and dealing with John Stephen and the opportunity for these young men to have an opportunity to play, absolutely they sure do," said Morris, who also Tuesday said he has not decided on a starting quarterback for the coming season.
Regardless of the position, Morris said the new rule should allow coaches to get a better look at all newcomers.
"Now it allows us to have these guys in tight and to play them and if they are not ready early on - in which we would never put a player on the field if they were not mentally ready to play in this league - and it may not happen early on for a true freshman, but it might later in the year," Morris said. "So I am excited about that."
Discussion
Have a comment on this story? Join the discussion or start a new one on the Forums.