Brooks becomes fifth Arkansas defensive pledge this week
Published: Saturday, July 28, 2018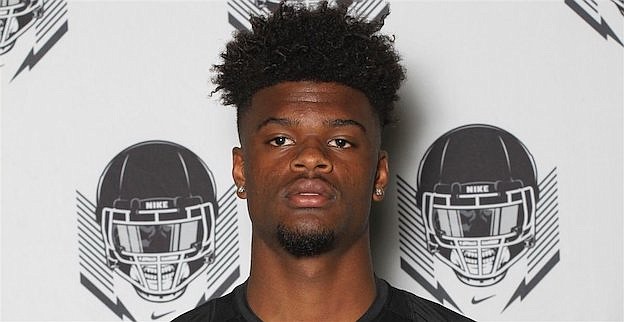 FAYETTEVILLE — Pflugerville, Texas, Hendrickson safety Myles Brooks came to Fayetteville on Thursday with Arkansas as his leader.
He left Saturday as a future Razorback - the 13th pledge in the 2019 class and the fifth new defensive commit this week alone.
Brooks (6-2, 190), a three-star prospect per ESPN, 24/7 and Rivals, chose Arkansas over Ole Miss, Baylor, SMU, Colorado State, Florida International, Louisiana Tech and Texas State among others.
"Man, it just felt like home coming into it," Brooks said. "Arkansas has a lot to offer, the staff has a lot to offer, the school has a lot to offer."
Defensive backs coach Mark Smith has been heading up the Razorbacks recruitment of Brooks, who has run a 4.57 laser time in the 40-yard dash and has a 40-inch vertical jump.
"I really like Coach Smith and he made sure that I knew Arkansas had a lot of offer," Brooks said. "I had talked to them when they were at SMU and followed them when they transitioned up here to Arkansas," Brooks said. "I just felt like it was the best move for me."
Brooks' commitment means 8 of the 13 Arkansas commits in the 2019 class are on the defensive side of the ball even as Razorback head coach Chad Morris is known for his offense.
"Arkansas struggled on defense last season and that is the side of the ball they wanted to make sure they put a lot of emphasis in the next couple of years," Brooks said. "They are looking to find some real dogs on defense and I think they are getting some dogs in the 2019 class on the defensive side of the ball."
With five commitments this week, Arkansas has jumped from outside the top 50 in team recruiting rankings to No. 25 in Rivals and No. 31 in 24/7.
ESPN has not updated its ranking as of yet to include Brooks and Richmond, Texas, Fort Bend Travis linebacker Zach Zimos (6-4, 215). Zimos publicly committed earlier Saturday.
"I am still working on pretty much everything because there is no one that is a finished product and you can get better every day," Brooks said. "But my strengths are my physicality and being able to locate the ball."
Brooks is viewed as a versatile player by the Razorbacks and could wind up at any of three spots.
"They see me as a safety, a corner and little bit of outside linebacker," Brooks said.
He was in Fayetteville for the Woo Pig Nic, a cookout that Arkansas hosted featuring a lot of its commits and top recruiting targets.
"It was a nice," Brooks said. "A lot of our commits, a lot of other great players that we are working on getting committed in the 2019 class were there and it was a lot of fun. We all know that Arkansas has something special going on with this coaching staff."
Brooks had planned to visit SMU on his way home, but now considers his recruiting closed even as Ole Miss has entered the picture.
"Ole Miss offered me and has really been trying to get me down there, but I just feel like Arkansas is the place for me and the perfect fit," Brooks said. "I also feel like I have a great chance to come in and play early and that pushed me to Arkansas as well."
Discussion
Have a comment on this story? Join the discussion or start a new one on the Forums.