Texas prep tailback Deion Hankins has Arkansas atop his list
Published: Tuesday, July 31, 2018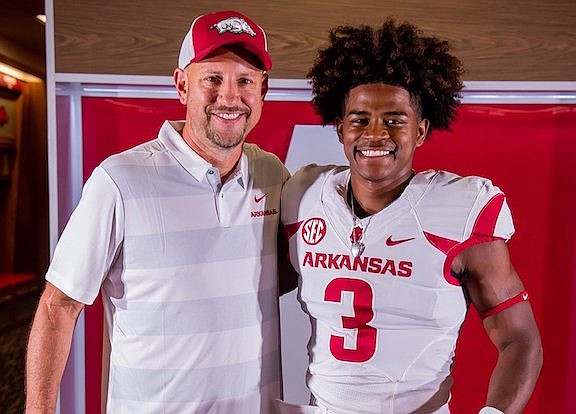 Jeff Traylor, Deion Hankins
FAYETTEVILLE — One of Texas' most productive running backs over the past two seasons got a chance to see what the Arkansas football program is like this past weekend.
El Paso, Texas, Parkland senior Deion Hankins (5-11, 210), who has rushed for nearly 5,000 yards and 52 touchdowns the past two seasons, arrived in Fayetteville Thursday night for the Woo Pig Nic cookout held on Friday.
"We came in (Thursday) at night time and it was kind of scary because I am not used to seeing a whole bunch of trees and stuff," Hankins said. "I am used to seeing mountains. But once I got into, like, the college atmosphere and they showed us around I felt comfortable with the people."
Hankins, who might be a mid-term enrollee, rushed for a whopping 2,812 yards and 28 touchdowns as a sophomore - second-best in Texas - and followed that up with 2,066 yards and 24 more scores as a junior.
He has offers from Arkansas, Oklahoma State, Texas Tech, Utah, San Diego State, SMU, UTEP, North Texas and others.
The Razorbacks are atop his list, Hankins said.
"Coming in, they were first on my list because they were my top offer, but I am just going to see how my life goes and just want to pray about it and see where God takes me," Hankins said.
Hankins is a fan of Arkansas head coach Chad Morris and running backs coach Jeff Traylor.
"They are amazing," Hankins said. "They are humble and have a good attitude about everything and are always positive. If I end up here, I would end up with good coaches."
Hankins has caught passes for just under 200 yards and is honing in on just that to increase productivity out of the backfield.
"Right now I'm working to be a complete back," Hankins said. "I can catch, I can run, and right now I'm working on my feet. This senior year, I just want to put it all together."
Discussion
Have a comment on this story? Join the discussion or start a new one on the Forums.