Razorbacks punish ORU's mistakes in opening win
Published: Friday, June 1, 2018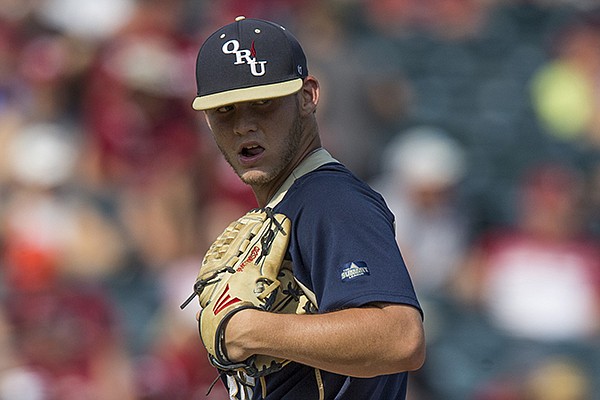 (
Ben Goff
)
Grant Townsend relief pitches for Oral Roberts against Arkansas Friday, June 1, 2018, during game one of the NCAA regional at Baum Stadium. Arkansas won 10-2. Townsend allowed three hits and three runs - two earned - in 2/3 innings pitched on Friday.
FAYETTEVILLE — ORU head coach Ryan Folmar had an idea of how he wanted Friday's NCAA Baseball Tournament opening-round game with No. 6 Arkansas to go. It went as planned for the first 5 1/3 innings.
But then a four-run sixth inning rally that included homers by Carson Shaddy and Jax Biggers blew the game open and soon the Golden Eagles were on the wrong end of a 10-2 decision in the Fayetteville Regional at Baum Stadium.
"Early we knew we were going to have to get some big swings at some point," Folmar said. "We just didn't get enough swings. One of the strengths for us all year long has been our bullpen and it got away from us a little bit. The first five innings were well played and then it got away from us."
The Razorbacks plated another run against the bullpen in the seventh and Heston Kjerstad launched his second two-run homer of the game in the bottom of the eighth to put it away as they gave starting pitcher Blaine Knight (11-0) all the cushion he needed.
"You just can't make many mistakes and every mistake we made tonight was hit and hit well," Folmar said. "I don't know - four or five home runs and three or four doubles. Again, it was just one of those days that every time we made a mistake they hit it and hit it well."
Knight, who went a season-high eight innings while allowing just two runs on three hits, and ORU starter Jason McGregor were locked in a pitcher's dual with the Razorbacks leading just 2-1 heading to the Arkansas seventh.
After Dominic Fletcher walked and was gunned down on a failed hit-and-run to lead off the bottom of the sixth, Shaddy made up for that by homering after going hitless at the SEC Tournament.
Jared Gates' double was followed by Grant Koch's RBI single and then nine-hole hitter Biggers blasted a two-run homer to surge Arkansas ahead 6-2.
"It's good," Folmar said of Arkansas' line up. "They have depth to their line up and they had some damage done at the bottom of their line up. I thought Biggers had several good at-bats today and Grant was good, too.
"So they have depth to their lineup and it is a good lineup top to bottom."
Knight fanned only two batters while throwing 104 pitches, walking two and hitting a batter in his time on the mound.
"He's good," Folmar said. "You don't go 10-0 in that league and on the year and not do a lot of things well. He has good command, commanded the fastball well on both sides, two different breaking balls for strikes, a change up for strikes, he's athletic, he's competitive, he's got enough fastball. I mean he's good. He's really good.
"I thought the one thing that we did really well - again, when you start looking at the numbers - is that we only struck out two times in eight innings. I thought we did some good things at the plate, saw him really well, but he just doesn't give you a chance to relax because it is strike after strike after strike after strike and it is four pitches and it is just unsettling at-bat.
"So although we didn't strike out a bunch, we didn't have a ton of hard contact. He's good, really good."
The only batter Knight could not solve was ORU center fielder Riley Keizor, who hit two solo home runs off of Knight.
"I just knew coming in he was going to try to beat us with the fastball," Keizor said. "He has a powerful fast ball and can get it by you. So the first pitch I was sitting dead red and I got it. The next at bat I knew I wasn't getting it again so I said slider and I went up and got it, too."
Conversely, McGregor had a hard time with Kjerstad, who had three of his team's 14 hits on a day in which 10 different Razorbacks had at least one hit.
"I just think he sees the ball well," McGregor said of Kjerstad. "He has a pretty tall stance and he seems able to see the rotation. He sees the ball deep and hits it the other way and whenever he has to, he turns on the fast ball."
While Folmar thinks playing before over 9,000 fans at Baum Stadium is an advantage for Arkansas, he sees more than that.
"It is tough to play away from home for anybody, but you come over here and it is a great atmosphere," Folmar said. "I think more than anything they have good teams. You can talk about the home field advantage and that is part of it, but that is a good club, that is a good team. I think as much as any thing else they have good players, they are well-coached and it is a good team."
Discussion
Have a comment on this story? Join the discussion or start a new one on the Forums.