Morris doesn't sugarcoat it when talking to prospects
Published: Thursday, June 7, 2018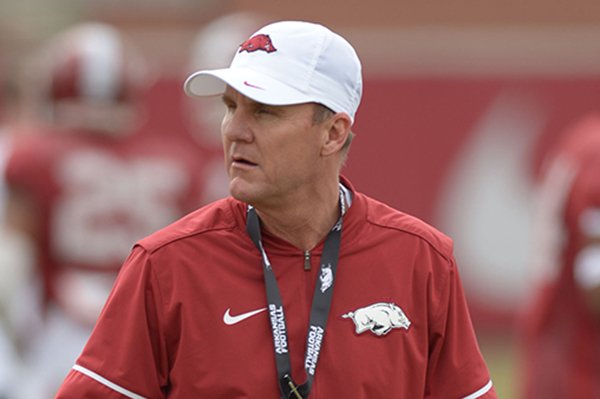 (
Andy Shupe
)
Arkansas coach Chad Morris watches his players Saturday, March 10, 2018, during practice at the university practice field in Fayetteville.
Over the course of 37-plus years of being in the University of Arkansas, Fayetteville athletic department (five years) or covering sports in Fayetteville, I've been around 10 Razorback football coaches.
Some I have liked more than others. Some I enjoyed being around. Some I thought were great character guys on and off the field, some not so much, some who had a better public persona than private and one that was certainly not my favorite for the way he treated everyone around him but had a brilliant offensive football mind nevertheless.
But regardless of whether I liked and/or respected them a little, a lot or not at all, my job has always been simply to be fair and cover them for the fans, not for myself.
I was thinking about that a few days ago when listening to current Razorbacks football coach Chad Morris talk to a group of summer football campers.
There are some in the fan base who seem really excited about the hiring of Morris with a segment of the fans who no doubt were tired of the status quo after two losing seasons.
There are also plenty who truly believe in Morris and his offensive scheme and believe his way -- including recruiting more Texas prep standouts -- will lead to success.
There are at least a few -- some very vocal -- who believe the hire fell short.
To this point, I see a dude -- who has not coached a game as a Razorbacks coach -- that seemingly gets it and says all the right stuff.
He told the campers the other night that if they were not going to college with the intention of graduating and to just play football, well, that was not what he and his staff were looking for in a prospect.
Morris also made clear that if getting up at 5 a.m. and working late sandwiched around going to class and practicing was not something you are interested in, college football at Arkansas is not for you.
He stressed that coming to college to just get a degree and move on to the next day was also not advisable.
Morris wants his players to get degrees that will make them a success in life, not just ones that get you a diploma.
He stressed that by having several of the current Razorbacks who were working the camp reel off what they were studying -- engineering, biology, pre-med and so on.
Morris also made clear that social media is a big, big factor in whether Arkansas will be coming after you as a recruit.
He noted that he has several members of his support staff who follow prospects on Facebook, Snapchat and Instagram, and if you tweet or post something disrespectful or retweet it, he knows about it in a few hours.
"I don't need to and am not going to recruit any problems," Morris said.
One other thing he made clear is that if you think there is going to be a crowd behind you cheering 24/7 during your time in college, you were not clued into what college football is really like.
"There are only a possible 60 games that you can be part of as a football player," Morris said. "That's out of the 1,460 days that you have as a college football player. So you have to put in the work when the crowd is not cheering for you, and you have to be willing to do that on your own."
I respect him for getting that out there to the prospects and not just sucking up to those on hand.
In fact, one player I interviewed put it quite simply.
"Coach Morris, he's keeping it real," said the prospect. "I like that much better than being told how great I am. I am trying to get to the top, and I know there are sacrifices to make."
Sports on 06/07/2018
Discussion
Have a comment on this story? Join the discussion or start a new one on the Forums.