Jackson feels at home in Arkansas
Published: Friday, June 8, 2018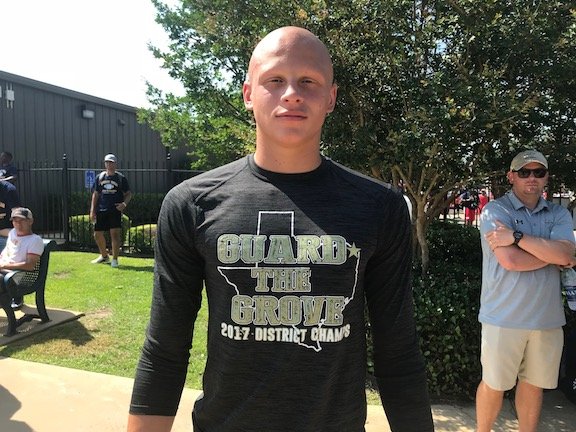 FAYETTEVILLE — Early in his high school career there are a lot of people in the Fayetteville area hoping to see Texarkana, Texas, Pleasant Grove sophomore defensive end Landon Jackson (6-5, 225 pounds) ends up playing at Arkansas.
That includes the Arkansas coaches and several members of the his family who live in Northwest Arkansas, said Jackson, who wrapped up an unofficial visit to the campus Thursday.
"It was really nice and I felt like I was at home because I have a lot of family here," said Jackson, who got an offer from Arkansas on May 3. "I've got grandparents, uncles, cousins - just a lot of family. I love the town, the school and everything about it."
He has known Arkansas assistant coach Jeff Traylor for several years and is getting to know Razorback head coach Chad Morris.
"I like Coach Traylor a lot," Jackson said. "I have known him a long time, since the sixth or seventh grade when he was coaching at Gilmer (High School in East Texas) when I was there. Coach Morris seems like a really good guy, too."
Jackson, a 2021 prospect who helped lead his 16-0 team to 4A DII state championship last season as a ninth grader, had 98 tackles, 11.5 sacks. 23 quarterback pressures, 3 forced fumbles, an interception and 6 pass break-ups last season.
"I feel good about my length, my ability to get separation, that I work hard and that I have good drive," Jackson saiod. "I am working on putting on size and adding some speed."
He already has offers from Arkansas, Texas A&M, Baylor, Kansas, Texas Tech, Southern Miss, Texas State and Tulsa, and interest from Texas and Notre Dame. He is scheduled to visit Notre Dame on June 28.
"My top schools are Arkansas, Texas and Texas A&M," said Jackson, whose 6-8 father, Larry, played college basketball for the Aggies for two years and professionally for five years. "I am just looking for what school fits me best, how close I am with the coaches."
Discussion
Have a comment on this story? Join the discussion or start a new one on the Forums.