NCAA OUTDOOR CHAMPIONSHIPS:
Hiltz caps tough year with 2nd
By: Bob Clark Special to the Democrat-Gazette
Published: Sunday, June 10, 2018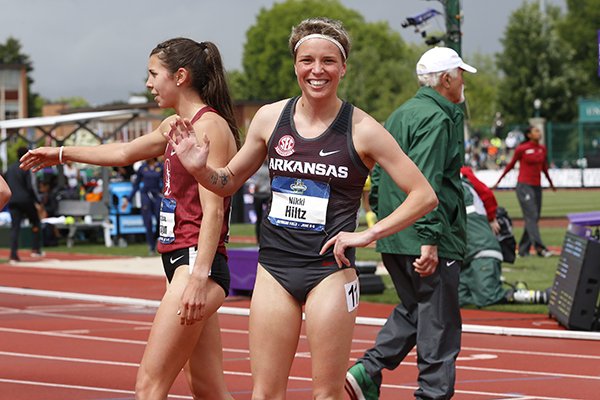 Photo by Arkansas Athletic Communications
Arkansas' Nikki Hiltz finished second in the 1,500 meters at the NCAA Outdoor Championships in Eugene, Ore.
EUGENE, Ore. -- It was quite a comeback for Nikki Hiltz to finish second in the women's 1,500 meters Saturday in the NCAA Track and Field Outdoors Championships at Hayward Field.
"It's hard to get second, but I'm definitely more happy than second," she said. "I would say second place feels like first with the season I've had."
Unable to run her normal workouts for the University of Arkansas, Fayetteville even now, Hiltz spent most of her season working with doctors and trainers to heal her right knee from a series of problems.
"A month ago, if you would have asked me about NCAAs, I would have said, 'Yeah, I'm gonna go watch,' " Hiltz joked with reporters.
Instead, she talked her coaches into letting her run at the SEC meet. The senior was able to qualify for the NCAA regionals, and from there she earned herself a trip back to Hayward Field, where she began her college career with Oregon before transferring to Arkansas.
Hiltz squeezed through the semifinals here, and then in the finals came from fifth in the final 100 meters to second, finishing in a personal best time of 4:09.14, just behind Oregon's Jessica Hull in 4:08.75.
"I just kept telling myself, 'Run through the line,' " she said of her late charge. "Of course I was like, 'I can get her, I can get her,' and that's what got me so close.
"She's an amazing runner and hats off to her, winning an NCAA title at her home [track]."
Arkansas had one other scorer Saturday as freshman Janeek Brown took fifth in the 100 hurdles in 13.05.
Combined with a second-place finish by Lexi Jacobus in the pole vault Thursday, Arkansas finished with 20 points to tie for 11th place in the women's standings. USC won the concluding 1,600 relay to edge Georgia by a point for the team title, and three other SEC teams finished in the top six.
Brown's race was one of many run during a heavy rain, with Kentucky's Jasmine Camacho-Quinn claiming the championship in a time of 12.70.
"It was the worst conditions to run in, cold and rainy. I'm not used to that," said Brown, a native of Jamaica. "I've run in rain like this but the cold ... it was really different than rain and heat."
After running a personal best of 12.80 in the semifinals, and with a loaded field that included no other freshmen, Brown expected a better time if not necessarily a higher placing.
"Given the conditions, I think I did pretty well," she said. "I'm pleased with the performance, and I've got three more years to go.
"It was mostly about getting the experience. I think I'll be really, really better next year."
Also left to hope for better results was Arkansas redshirt sophomore Devin Clark, who faded to 11th in the 3,000 steeplechase in 10:03.70, far behind winner Allie Ostrander (9:39.28) of Boise State.
"I got about halfway and just ran out of gas," Clark said. "I learned something from it. It's just hard that I have to wait 365 days for this to happen again."
Clark said not running enough steeplechases during the season against high-level competition left her unprepared for battling runners her equal in both the semifinals Thursday and the final. She also found the second time at this meet, after a fifth-place finish two years ago as a freshman, was a more challenging experience.
"My whole mentality was a lot different," she added, explaining that as a freshman "you're just happy to be here. This year I had a lot more expectations and it weighed me down a little bit."
Calea Carr of Arkansas State University had a personal best of 179 feet, 4 inches to finish sixth in the discus to put the Red Wolves on the scoreboard on the final day of the meet. Maggie Ewen of Arizona State won the event with a final throw of 198-5.
Sports on 06/10/2018
Discussion
Have a comment on this story? Join the discussion or start a new one on the Forums.