Future Razorback OF Matt Goodheart revels in Arkansas' CWS success
Published: Thursday, June 21, 2018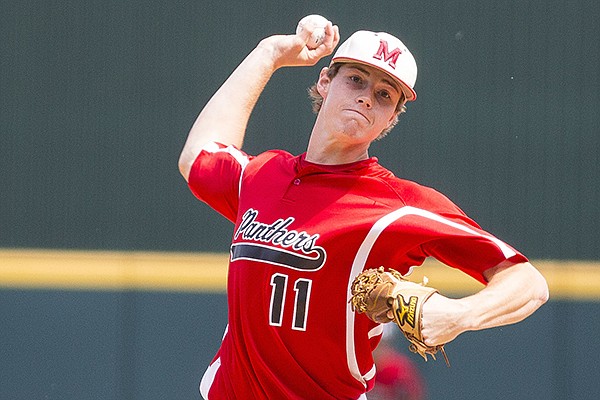 ( David Beach )
Matt Goodheart of Magnolia pitches during a game against Sylvan Hills on Saturday, May 21, 2016, at Baum Stadium in Fayetteville.
FAYETTEVILLE — Arkansas leadoff hitter Eric Cole started off Wednesday's College World Series win over Texas Tech with a single and former Magnolia standout and Razorback 2018 outfield signee Matt Goodheart smiled at the vision of being in that same position next year.
Goodheart hit .355 with 7 home runs, 43 RBIs, 55 runs and 9 stolen bases while leading San Jacinto, Texas, Junior College (52-15) to the Junior College World Series semifinals this season.
"I have batted leadoff all my life and love doing it," Goodheart said. "I can't even imagine how great that feeling would be right now, but I sure hope I get the opportunity to feel it just like these guys are this year."
Arkansas (46-19), which has outscored its NCAA Tournament foes 70-31, has taken down Texas (11-5) and Texas Tech (7-4) in its first two CWS games and is one win away from playing in the national championship series.
"They have just got to keep competing from both sides of the plate like they have been," Goodheart said. "They are tough outs. That's what fires me up so much. They don't let you have anything and are just so tough to play against.
The Razorbacks will play the winner of Thursday's 7 p.m. Florida-Texas Tech game on Friday night at 7 p.m.
"It is exciting that I am coming into a program that has really shown out this year and has a real promising future," Goodheart said. "I know the goal will be to get right back to the College World Series next year and that kind of expectation for a program that I am joining excites me."
Goodheart, who will have three years of eligibility, is a big fan of Razorbacks head coach Dave Van Horn.
"The chance to play for him is really exciting," Goodheart said. "He is a winning coach, has the tradition of putting good players on the field and sending them on to the next level. I am really looking forward to playing for him."
Arkansas will almost assuredly lose Cole after he was selected by the Kansas City Royals in the fourth round of the 2018 Major League Baseball Draft.
That's a spot Goodheart, who was a first-team All-Arkansas Preps selection as a senior, hopes to take over.
"I guess it's nothing out of the ordinary - just get better every day while pursuing a goal, impact that team right away and hope to lead us back to Omaha just like he did," Goodheart said.
Arkansas has been an outstanding offensive squad this season and Goodheart believes he will fit perfectly with that.
"Personally, my hit tool is my best attribute," Goodheart said. "They can all swing it up there and I am thinking that will play into Arkansas well because they can all swing it up there and I am hoping I can fit right in with that aspect."
Arkansas is expected to return third baseman Casey Martin, fellow freshman All-American and SEC rookie of the year Heston Kjerstad and outfielder Dominic Fletcher, who was 4-of-4 with a homer, a double and two singles against Texas Tech on Wednesday.
"I had the opportunity to play (summer ball) with and against Casey Martin while I was in high school and I knew he was going to be good," Goodheart said. "Some people slept on him, but not me. I knew how good he was going into his freshman season. He has made a big impact.
"Heston Kjerstad surprised me a bit and he is actually going to be my roommate next year as of right now. The both of them are very important and I have heard a lot of good things about Dominic Fletcher as well."
San Jacinto finished 29-9 in conference play, won its league tournament and won twice at the NJCWS before losing to eventual national champion Chipola, Fla., in a semifinal.
"It was really fun and we had a great group of guys that I loved being around," Goodheart said. "We also had a great coaching staff that encouraged you to get better every day. I think going to San Jac was a great decision, prepared me for Arkansas and put me in the tremendous position that I am now.
"I am really grateful I made that decision. It has really worked well for me and now I can move on to the next level and me ready to make an impact right away."
Goodheart, a NJCAA Region XIV All-Conference first-team selection, is the son of long-time Southern Arkansas University head baseball coach Steve Goodheart - 704 wins in 23 seasons - and is a born hitter, according to San Jacinto head coach Tom Arrington.
"Matt Goodheart was born to hit," Arrington said. "He has an old school approach and somewhat funky stance. It works, and works as well as any on the team. His barrel is always in the zone for a very long time and he crushes baseballs.
"His father managed the Southern Arkansas University program for 32 years, and you can tell Matt comes from great lineage."
Goodheart played his freshman season and hit .458 at Columbia Christian in Magnolia and then three years at Magnolia High. He was named the Class 5A state tournament MVP while leading Magnolia to the state title his junior season and led his team back to the state title game the following season.
He didn't grow up a full-fledged Razorback fan.
"I actually grew up fairly neutral," Goodheart said. "A lot of people growing up around me were huge, die-hard Arkansas fans of course. But honestly, I kept a level head and I wanted to go somewhere where I could pursue the goal of getting better every day and surround myself with winners and people in an environment that would improve me."
It just so happened that Arkansas presents that to Goodheart, who has studied former Razorbacks hitting coach and current Tennessee head coach Tony Vitello and active hitting coach Nate Thompson.
"I followed their hitting coaches pretty close when they got to Arkansas and I have really enjoyed the coaching staff," Goodheart said. "I knew they could prepare me for professional baseball one day.
"I had my sights on Arkansas pretty early. I had interest from some other schools, but I just thought Arkansas was the best choice for me overall."
Discussion
Have a comment on this story? Join the discussion or start a new one on the Forums.