Ledbetter riding high with Razorbacks' CWS run
Published: Sunday, June 24, 2018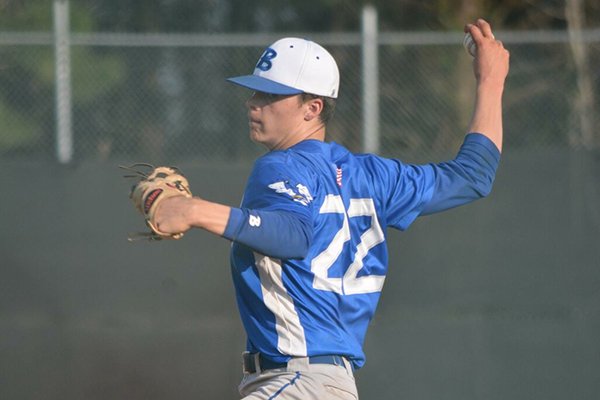 ( Submitted )
Bryant freshman Austin Ledbetter is the third member of his family to commit to the Razorbacks.
FAYETTEVILLE — Dave Van Horn has been head coach of the Arkansas baseball program since before the birth of Razorback shortstop-pitching commit and rising sophomore Austin Ledbetter (6-1, 173) of Bryant.
Van Horn has guided Arkansas to a 642-362 in his 16 years at the helm and has reached the pinnacle of the college game with his team scheduled to play in a best-of-three series for its first ever national championship on Monday night in Omaha.
"It's exciting," Ledbetter said. "For them to have all the success this season, make it to Omaha and put themselves in position to play for the national championship is just a great accomplishment. I can't wait to play for Coach Van Horn and hopefully make it there myself."
With his cousins DJ and Blake Baxendale being former Razorbacks and former Bryant stars Blaine Knight and Evan Lee on the current Arkansas roster, Ledbetter said it was an easy decision for him to pledge to the Razorbacks after being offered as a freshman.
"It has been a lifetime dream to go to Arkansas," Ledbetter said. "I've had two cousins go to Arkansas and I've grown up watching them, dreamed of doing the same thing and always been ready to commit to playing for the Razorbacks."
Ledbetter, who chose Arkansas over Oklahoma and TCU, sees two big factors in the Razorbacks' postseason run. The Hogs have outscored foes, 75-33, in the NCAA Tournament.
"I think the biggest thing here lately has been the way they are striking the ball," Ledbetter said. "I also think the high energy in the dugout has been big for them. I think that is a big factor as well."
There's also the pitching with ace Knight (13-0, 2.88 ERA) set to be the starter on Monday night.
"His little brother plays on my baseball team and I am very excited for Blaine," Ledbetter said. "He has had a great year - 13-0, which is pretty impressive and he is the only one in college baseball to be able to do that this year."
Ledbetter led his junior high team to a 10-0 season as the starting quarterback - running Bryant's winning streak to 27 - and has his eyes on doing the same thing Greenwood two-sport star Connor Noland plans to do in Fayetteville next season.
"It would be awesome to be able to play both football and baseball at Arkansas," Ledbetter said.
Bryant has won four state titles since 2010. It finished the 2018 high school season 22-10-1 with a first-round win over Fayetteville in the Class 7A state tournament before falling to Springdale Har-ber 4-1 in the following game.
Ledbetter is playing again this summer with the Arkansas Sticks, which numbers 16 signees and commits in the Razorbacks' 2018-2021 classes, and includes Ashdown outfielder and quarterback Braylon Bishop, his childhood friend who also hopes to play both sports for Arkansas.
The Sticks will play in Fort Myers, Florida early this week and then head to Nashville, Tenn., for the national championship play this weekend.
"It is a great organization," Ledbetter said. "We go around the country playing great talent in the best tournaments and seeing great players every weekend. I think when you play against the best, it just makes you better as a player."
Discussion
Have a comment on this story? Join the discussion or start a new one on the Forums.