Future Razorback Adams pumped about Arkansas' CWS shot
Published: Thursday, June 28, 2018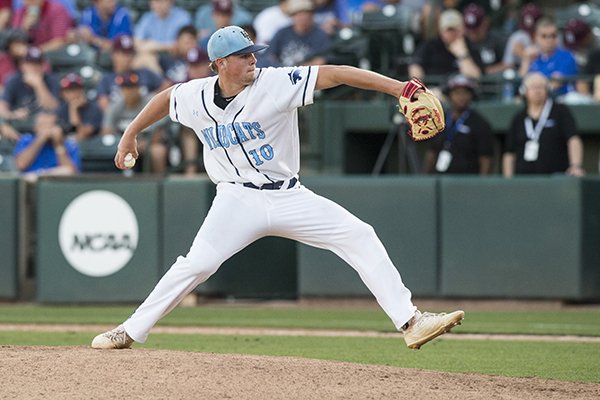 (
Ben Goff
)
Springdale Har-Ber starter Blake Adams delivers to a Conway batter in the 7th inning Friday, May 18, 2018, during the 7A baseball state championship game at Baum Stadium in Fayetteville. Springdale Har-Ber won 6-0.
OMAHA, Neb. — Right after finishing up his baseball game today at the USA Baseball Training Facility in Clardy, N.C., future Razorback and Springdale Har-Ber rising senior Blake Adams will race to his TV.
Adams, a pitcher whose fastball tops out at 94 mph and can also rake at the plate, will join the masses rooting on Arkansas (48-20) as it tries to win the national championship in a 5:30 p.m. game against Oregon State (54-12-1).
"It's been a magical ride for them this season," Adams said. "Now it is time to finish it off. I can't believe that in a year or so I will be a Razorback and I would absolutely love to be on that mound in Omaha with the ball in my hand in the same type situation."
Adams (6-2, 205) - in North Carolina for the USA Under 18 National Team Trials - certainly took care of business in May when he toed the rubber at his future home, Baum Stadium, and pitched a complete-game shutout to lead his team to a 6-0 win over Conway and capture the Class 7A state title.
He finished the season with a 7-2 record with a 2.05 ERA while also hitting .411 with 8 home runs and 42 RBIs.
"All four of my pitches were working that day and I had great location with them," Adams said. "My fastball was electric. I was able to spot it inside and outside when I needed to. I kept the ball down and me and my catcher Trevor (Brown) kept them off balance all night by mixing in some changeups and some sliders and my curveball."
The only trouble Adams had was being tackled from behind by his life-long friend Blaze Brothers as he raised his hand on the mound after the final out.
"Blaze nailed me," Adams said. "I actually had to go to the chiropractor because he hit me so hard in my lower back."
It was a storybook ending for a Har-Ber team that was ranked second nationally by Baseball America.
"But it was awesome. I'm still not over it. Me and Blaze have been playing together since we were six years old. We won a USSSA state championship when we were 11 with a few other guys that are now at Har-Ber. It was unbelievable to get that done together. It really was something special."
That championship game was a breeze, but was only made possible because Har-Ber rallied from down three in their final at-bat against Van Buren.
Adams got things going with a two-blast.
"It was magical," Adams said. "…We knew the pitcher had a high pitch count - and was running out of steam and they had a freshmen warming up in the bullpen, but probably didn't want to put him in that situation. So I just tried to work the count and I think I had a nine-pitch at-bat. He left his first mistake of the at-bat over the plate with a 3-2 count and I got a hold of it and the rally just kept going from there."
Adams, who is 16-6 with a 1.62 ERA in his high school career, is looking forward to working with Arkansas pitching coach Wes Johnson.
"I am hoping that by the end of high school that I will be consistently 94-96 and possibly topping out at 98," Adams said. "Once I get to Arkansas, I want to be a consistent mid-90s guy who tops triple digits. I think Wes Johnson can get me there."
Adams has been a life-long Razorback fan, but the addition of Johnson to Arkansas head coach Dave Van Horn's staff two years ago sealed the deal for the Razorbacks.
"I got my first offer before the summer of my ninth grade year from Mississippi State and Wes Johnson was the pitching coach there," Adams said. "I was thinking about going there because I just fell in love with Coach Johnson.
"But Arkansas was always my dream school and I waited on them even as I started talking to Oklahoma State and Oklahoma. I wasn't really interested in them because the atmosphere just wasn't like Arkansas'. It was Arkansas and Mississippi State and Arkansas' blows Mississippi State's out of the water. So when Coach Johnson came to Arkansas, it was all over.
"They offered me and I committed in three days because it was a dream school and I've always wanted to go there."
Adams had two home runs his freshman and sophomore years, but jumped to eight as a junior.
"I had a little hitch in my swing freshman and sophomore year and my timing was a little off," Adams said. "I found that hitch this year and I took it out. I began to really stay in my hips longer and get through the ball with extension and the ball starting jumping.
"In college I would like to play both outfield and pitch, but after that I will have to decide what to do because I want to be the best I can at one spot professionally."
Discussion
Have a comment on this story? Join the discussion or start a new one on the Forums.