Arkansas blanks Dayton, takes two-game set
Published: Thursday, March 1, 2018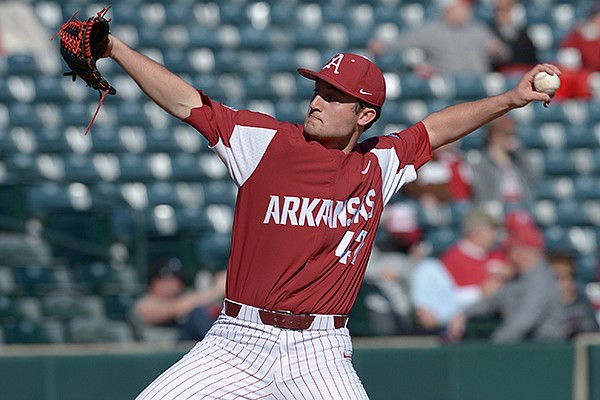 (
Andy Shupe
)
Arkansas pitcher Hunter Milligan throws a pitch during a game against Dayton on Thursday, March 1, 2018, in Fayetteville.
FAYETTEVILLE — Arkansas 11, Dayton 0 - FINAL
Ramage worked out of a two-on, one-out situation to preserve the shutout.
The Razorbacks (7-2) had 11 hits in the win and will move on to a three-game series with visiting USC this weekend that will begin Friday at 3 p.m.
Arkansas 11, Dayton 0 - End 8th inning
Carson Shaddy's triple and Casey Optiz' single has the Razorbacks in double figures for the second day in a row.
Ramage actually knocked in a run with a single to left.
Arkansas 9, Dayton 0 - End Seventh Inning
The Razorbacks added a pair of runs in the seventh a hit, a catcher's interference and two wild pitches - one on which Eric Cole scored from second base.
Cole Rampage becomes the third straight freshmen pitcher for Arkansas today and the fifth straight in this two-game series.
Arkansas 7, Dayton 0 - Middle Seventh Inning
Bonin has not allowed a hit in his five innings of relief while fanning sixth, walking one and hitting a batter.
Arkansas 7, Dayton 0 - Middle Sixth inning
Razorback pitcher Bryce Bonin has now retired 12 of the 13 batters he has faced in four innings of hitless work. He has four strikeouts and one walk and has thrown 44 pitches, 28 of them strikes.
Arkansas 7, Dayton 0 - End 5th inning
Heston Kjersted launched a three-run blast over the right field fence. Dayton right fielder Tate Hagan never moved when Kjerstad, powered a fast ball that statcast said traveled 419 feet.
Luke Bonfield followed with a double and was chased home on Jared Gates' RBI single before the inning ended.
Arkansas 3, Dayton 0 - End 4th Inning
Jared Gates' second homer of the season was a one-out solo blast that pushed Arkansas ahead by a trio of runs.
Arkansas 2, Dayton 0 - End 3rd inning
After Casey Opitz singled and Jack Kenley walked to open the half inning for the Razorbacks, Casey Martin got the scoring started with an RBI single. Heston Kjerstad pushed it to 2-0 with a sacrifice fly later in the inning.
Arkansas 0, Dayton 0 - Middle 3rd inning
Arkansas' Luke Bonfield walks to lead off the bottom of the second, but is stranded at third. Still scoreless headed into the third against Dayton.
Bryce Bonin took over the mound in the top of the third for fellow freshmen pitcher Hunter Milligan.
Milligan finishes his day allowing two hits, walking one and fanning four in 37 pitches, 23 for strikes.
Arkansas 0, Dayton 0 - Middle Second inning
After Dayton starter Austin Cline (0-2, 15.00) ERA pitched a 1-2-3 frame, Milligan worked around a single and a hit batter to pitch another scoreless frame.
Arkansas 0, Dayton 0 - Middle 1st Inning
Arkansas freshman starting pitcher Hunter Milligan (0-0, 0.00) fans the first two batters he faces before giving up a hit, walking a batter and getting out of the inning with fly to center.
Discussion
Have a comment on this story? Join the discussion or start a new one on the Forums.