Recruits liking Morris' message
Published: Thursday, March 1, 2018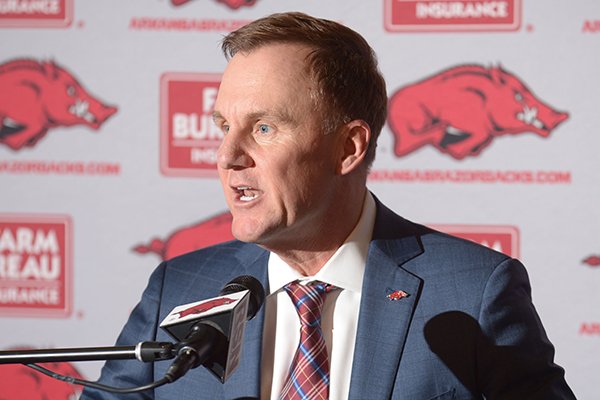 (
Andy Shupe
)
Arkansas coach Chad Morris speaks Wednesday, Feb. 7, 2018, with members of the media in the Fred W. Smith Football Center on the university campus in Fayetteville.
What will happen on the field in new Arkansas football coach Chad Morris' first season remains to be seen, but there's plenty to like about what is going on off the field so far.
That includes getting a ton of talented recruits on campus last weekend and Morris revving up the fans Monday night at The Petit Jean Razorback Club Spring Rally in Morrilton.
"I'm excited to get out and just meet the passionate fans across our state," Morris said in a pre-meeting media session. "I have had a chance to do that through recruiting and now to get out and attend these Razorback Club events, it is kind of a special time this spring and we look forward to it."
Morris knows that Arkansas fans need a lift after winning just five of the final 15 games in former coach Bret Bielema's tenure after a promising start.
"I know how bad you want this program back," Morris said. "We all gotta lock arms and get it done together. And we will not let you down as a staff -- we know your passion for the Hogs and we feel it."
Morris and his staff had arguably the greatest assemblage of talent ever on campus in one weekend this past Saturday and Sunday.
Arkansas hosted 11 players in the ESPN's 2019 Top 30 prospects among some 50 overall juniors and sophomores that were in Fayetteville to look over the program.
The Razorbacks landed a commit from Memphis defensive end Trevis Hopper and made progress with several other prospects like Nashville (Tenn.) Franklin wideout Lance Wilhoite, ranked No. 39 overall by ESPN.
"Great players make it happen, and great players want to play with other great players," Morris said Monday night in Morrilton.
That list of visitors included Murfreesboro (Tenn.) Blackman wide receiver Trey Knox (6-foot-4, 210 pounds), a four-star prospect and the 209th overall player in the class according to ESPN.
Knox explained what Morris is trying to get across to recruits.
"Arkansas is on the climb, most definitely," Knox said. "I think this visit today shed some light and opened my eyes to what this coaching staff is trying to do here in changing the culture. They're trying to make this program better."
Knox noted that Morris hit on more than just being a standout football player and that turned out to be the highlight of his trip.
"I think it was Coach Morris talking to us in the meeting room," Knox said. "He talked about not just making us better at football, but as a young man, as a father, as a husband. The honesty that he displayed to the group really opened my eyes."
As seemingly a lot of prospects do after visiting campus, Knox left campus with a different feel than he came in.
"I didn't think it was going to be this beautiful," Knox said. " It's beautiful out there. It's big and I was expecting it to be a lot smaller."
Knox has offers from Arkansas, Tennessee, Memphis and Austin Peay with the Razorback offer coming two days before his visit.
"They (the Razorbacks) said it's a good fit for me," Knox said. "They think I can fit in well and be out of here by my junior year and go into the NFL draft. They might be my number one pick right now."
As spring practice gets underway today, Morris at least has the benefit of a receptive public wanting desperately to be excited.
"I just think what we are trying to build is a day-to-day process," Morris said. "What we are after is great players to change the game for us. We are going to continue to target and recruit and retain and it is all about the evaluation of these young men right now."
Sports on 03/01/2018
Discussion
Have a comment on this story? Join the discussion or start a new one on the Forums.