Branson Bragg prioritizes Arkansas visit
Published: Tuesday, May 1, 2018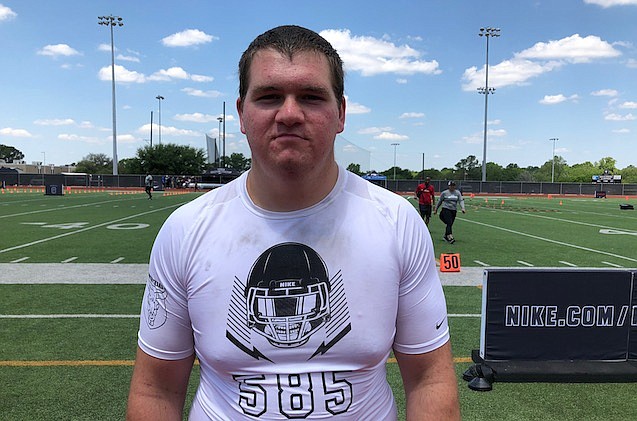 ARLINGTON, Texas — Crandall, Texas, center prospect Branson Bragg has one specific thing he wants to get accomplished this spring in terms of his recruiting.
That's to get to Fayetteville so Bragg (6-4, 295) can see what the University of Arkansas has to offer since the Razorbacks are on his final eight list of schools although he is yet to step foot on campus.
"That is my number one priority right now," Bragg said. "I want to get up to Arkansas sometime soon because I just haven't been there yet. I haven't seen it, but they are in my top schools, so it shows you how much respect I have for coach (Chad) Morris and his staff.
"I need to see what they have to offer up there, including the academics, which is very important to me."
Arkansas certainly has some stiff competition for Bragg, who was offered by Morris' staff at SMU and then again after arriving at Arkansas.
Bragg, a four-star prospect and the 155th overall talent in the 2019 class per ESPN, has narrowed his 21 schools down to eight.
"Arkansas, LSU, Michigan State, Stanford, Texas, Texas A&M, Oklahoma and Oklahoma State," Bragg said.
Bragg is viewed as the second-best offensive lineman in the Dallas-Fort Worth metroplex, according to the Dallas Morning News, behind Allen High's EJ Ndoma-Ogar.
He was paired on an offensive line beside Arkansas target Stacey Wilkins of Camden Fairview at Sunday's Nike The Opening Dallas Regional.
No doubt the Razorback staff would like to team Bragg and Wilkins together for several years as evidenced by how the entire Arkansas offensive staff has been in to see both players.
"This last period they were out recruiting and the whole offensive staff came to my school," Bragg said. "It was during the offseason, so they were just watching me lift, but it was really cool. I have built a very good relationship with them."
Bragg is very fond of both Morris and Razorback offensive line coach Dustin Fry.
"Coach Morris is such a genuine coach," he said. "He is high energy, he means what he says and he cares about his players. I really like that.
"Coach Fry – the O-line coach – and coach Morris really turned SMU around and I don't think there is a doubt they are going to do the same thing with Arkansas."
Bragg laments the fact that he doesn't play a lot of similar talent in Texas' Class 4A and that's why he tries to make it to as many camps as he can.
"I will basically maybe play just one guy on Friday nights this fall that will go on to play college football," Bragg said. "So it is more about pushing myself and getting better for later on and trying to put more tools in my toolbox and enhancing my skills.
"Don't get me wrong. There are some great defenders at the 4A level, but it is not the top-tier competition that I wish I could go against every day. That is why I love these camps. I get out here and get to go against people from all across the state and even other states like Arkansas and Louisiana. People that are really good and push me."
Bragg is not in a hurry to make a decision.
"I am really unsure right now," Bragg said. "I am thinking that I will wait until the season, but I don't want to take all five during the season before the December signing date if that is when I want to sign. Nothing set in stone."
Until then, Bragg says he will just get back to work on getting better every day.
"There is so much that I need to work on before I get to college, but strength is a big thing," Bragg said. "I need to continue to get in the weight room. I lift a lot, but I am not where I want to be at yet.
"Hip mobility and really a lot of stuff that I also work on for the discus and the shot. It definitely translates."
Discussion
Have a comment on this story? Join the discussion or start a new one on the Forums.